Maddox Best of Breed with CACIB and BIG-2 and Leia 3rd Best Best bitch with R-CAC at Int. Show in Västerås!
2023-07-23
« Tillbaka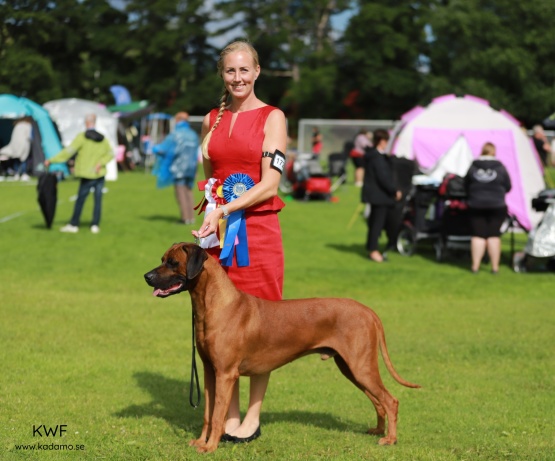 Today we went to the international dogshow in Västerås. Very nice to have a show near home. Today's judge was Ralph Dunne, Ireland and breed entry 29.
First was our golden boy EUJW-23 NORDJW-23 NORDW-24 SEW-22 SEJW-22 Kadamo Can Y' See It Now "Leo" today shown by his owner Malin. They won the intermediateclass with EXC but no CQ today.
After him it was time for daddy FIUCH NOUCH SEUCH SEVCH Ave Caesar Diamond Jewel of Rubi "Maddox" to entered the ring for the first time in 11 months! I have not showed him since he completed his championtitles last summer. But now it was time to chase some CACIB's too!
Maddox won the championclass with EXC and CQ. He went all the way to Best male with he CACIB we wanted and not only that. He was Best of Breed!
In the afternoon we went back for the finals where group 4/6 was judged by Nicola Hughes Ruigrok, Ireland. She picked out Maddox for her top placements and he went all the way to BIG-2! Such a great comeback to the showring!
Today we also had sweet SEVCH Kadamo Ariya "Leia" making her showdebute! I had the privilgue to show her in openclass today and she behaved so well! She placed 2nd with CQ behind a beautiful bitch who recently became champion.
So first show and first time in Best bitch, where she ended up 3rd with R-CAC! (The championbitch who won over her where not Swedish champion so she got the CAC.)
So proud of the dogs and I had a very nice day with my lovely puppybyers. I am so proud and happy about all the success that has been coming our way the past year. Just trying to ride the wave and enjoy it all!