Puppies planned for 2018!
2017-10-31
« Tillbaka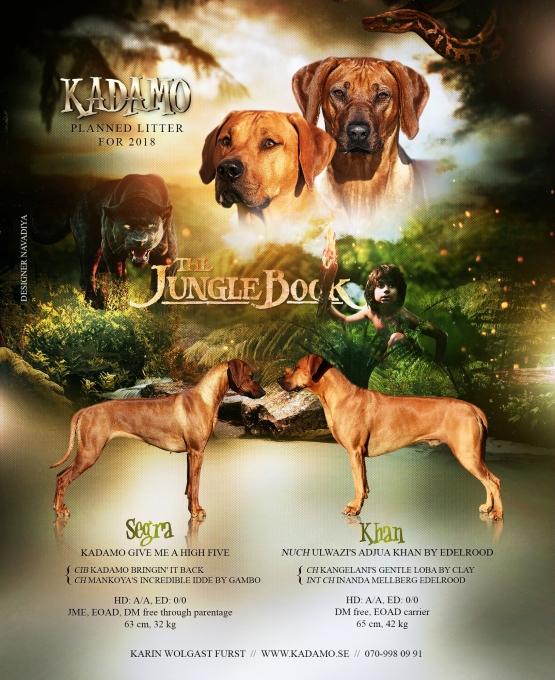 I am very happy to be able to announce the next planned litter at kennel Kadamo. For the very first time a dog from second generation Kadamodogs will be a proud mother here at the kennel. It's the daughter of my girl CIB SEUCH NUCH FINCH DKUCH SEVCH LP1 RLDN RLDF Kadamo Bringin' It Back "Mira", and her name is Kadamo Give me a High Five "Segra". Her sire is stunning boy NORDUCH SEVCH Mankoya's Incredible Idde by Gambo "Idde" and she was born in my High-litter.
The male I have chosen for her is from Norway and this will be his first litter too, gorgeous NUCH Ulwazi's Adjua Khan by Edelrood "Khan". His dame comes from the extraordinary G-litter at kennel Kangelani in Norway, NUCH SEUCH Kangelani's Gentle Loba by Clay "Loba". His sire is the proven studdog INTUCH NORDUCH DKUCH SEUCH NUCH FIUCH SEVCH Inanda Mellberg Edelrood " Rod".
This will be the first litter for both of them and I really do look forward to seeing there puppies! Segra is expected to come into heat in February 2018 and if everything goes as planned that means we will have puppies born in spring and ready to move to their new families in the summer!
For more information and pictures of the parents visit the Planned J-litter page!