NOJW-15 SEVCH RLDN Kadamo I'm in It for the Gold "Koya" is Swedens 2nd Most Top Winning Ridgeback 2016!
2016-12-07
« Tillbaka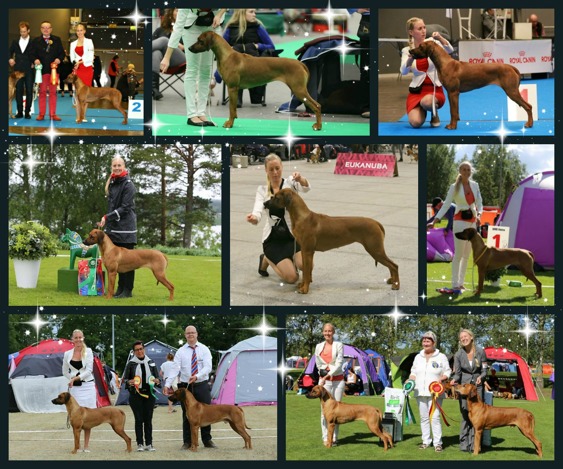 Just like Koya's pedigree name says, we were in it for the Gold this year. Starting off showing Koya at My Dog two day show in Gothenburg in January, I had very little expectations. She was then a week short of her 1st Birthday and was shown in Juniorclass.
But the way she kicked off this year set the tone for the rest of it! Day 1 she became Best Bitch and BOS. Day 2 she went all the way to Best Bitch AND Best of Breed. But she did not stop there, entering her very first groupfinal she went all the way to the Top! My very young girl won BIG-1!
With these amazing results Koya stepped in on the Swedish Top 10 Ridgeback list "Guldhundslistan" as #1.
And the year for her has just continued pretty much the same way. Koya has during the year been shown in Sweden, Denmark, Norway in Finland.
At every single show (in juniorclass or intermediateclass) she has recieved Excellent, been placed as classwinner and each time with CQ (championquality).
Only that is something to be proud of! But of course she did not stop there. During the year she has won 9 Swedish CAC, 1 Norwegian CAC, 1 Finnish CAC, 3 Swedish R-CAC, 2 Danish R-CAC and 1 Norwegian R-CAC. She has won Best Bitch 7 times in Sweden and finished Best of Breed 4 times and Best Opposite 3 times. She has been placed in Best bitchclass 5 other times than that in Sweden.
After moving to intermediateclass she has won 3 CACIB and 1 R-CACIB in Sweden.
This means that Koya has been placed as Swedens #1 Ridgeback bitch from January until the last showweekend in December. There, she truly fell on the finishline... with 5 points she lost her #1 position and moved down to 2nd place. Still and amazing achivement for this girl who still is not even 23 months old.
I can not be anything but proud of this girl, as her breeder, owner and handler. She is to me close to perfection and a delight to show.
Not to forget is that we also competed three times in Rallyobedience Noviceclass, with three straight qualifying results with top placements and the RLDN title.
So she is not just a pretty face ;)
In January Koya will turn 2 years old and then she can start to compete for her last needed CAC to complete her Championtitles. Once she get the last Swedish CAC she will become both Swedish Champion, Norwegian Champion, Finnish Champion and Nordic Champion.
So before ending this little note, I want to say THANK you to each and every judge who has thought so highly of my young girl, both compared to other dogs the same age, but most of all placing her above so many lovely and highquality champions! Each results has meant so much to me, so thank you!
If you are interested in seeing the whole Swedish "Guldhundslista" follow this link. Congratulations to the winners and all dogs placed on the list!