Happy New Year!
2018-12-31
« Tillbaka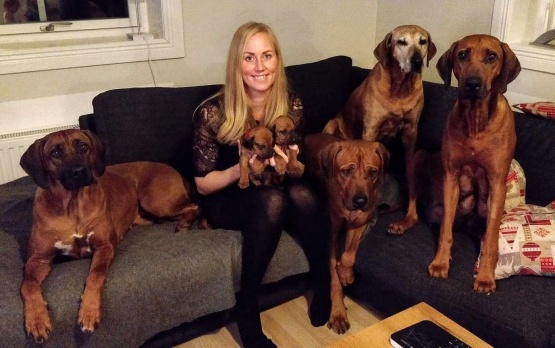 I am sitting here feeling very happy about the year that has gone by. Looking at "only" the dogside of my life it has been filled with success and love. Two litters has been born here at the kennel this year, the Jungle Book-litter (Segra x Khan) in March and our present Kiss-litter (Mira x Colin) in December. With that comes new lovely families to my big Kadamo family.
In 2019 my kennel celebrates 10 year since the birth of my A-litter, and I really look forward to that weekend I will have with my puppies and their owners!

In the end of July I had a big scare. My old lady Moa, the foundation to my whole breeding had just turned 12 years old and suddenly got sick. We found a livertumour and she had an infection making her very sick. But I did not give up and the she got better, and better. And here we are 5 months later and she is still here with us doing just fine. So I feel blessed to be able to celebrate another new years eve with her by my side!

I am very proud of my puppies and their owners. They have been out competing in different sports, recieving great results and new titles during the year, and I want to say congratulations once again to all of you!
I look forward to get back out there next year myself, both doing dogshows but also some rallyobedience with the dogs. It is time to get Colin into the obediencegame now, he has gotten away with it long enough!

I wish you all a very Happy New Year, and I hope that 2019 brings you a lot of joy!