RRWC 2016 Show in Lund!
2016-07-04
« Tillbaka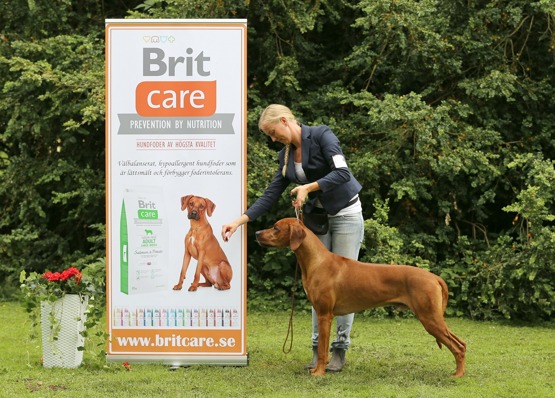 Last weekend was all about Ridgebacks! On Wednesday and Thursday it was time for RRWC 2016, Rhodesian Ridgeback World Congress in Lund.
It was two days filled with lovely people, several interesting speakers sharing their thoughts and knowledge with us. I had a great time and I am happy that I was able to go!

On Friday it was time for the Swedish RRWC Speciality Show in Lund. I did not have my own girls with me, but was there to enjoy watching some of my own breedings and a lot of other gorgeous dogs. Total entry was around 170 dogs.
In the male ring the judge was Sue Simper, UK.
In juniorclass halfbrothers Kadamo I Am High Quality "Clinton" and Kadamo Nothing But Gold "Argos" was shown. The both recieved Excellent and CQ but was unplaced.
In Workingclass I stepped in and showed SEVCH RLDN Kadamo Fire and Ice "Nixon". He was rewarded Excellent and won the class with CQ! He was also picked out in the Top 6 at the end in the Best Male placement.
In Openclass his brother Kadamo Fire It Up "Arrax" was shown and it was the largest class of the day (22 males). He was rewarded Excellent but unplaced.
In Championclass NORDUCH EECH SEJW-12 Kadamo Rob Roy "Dexter" got Excellent but was unplaced.

The bitches was judged by Ann Woodrow, UK.
In juniorclass Kadamo High Expectations "Selma" was rewarded Good. Halfsister SEVCH Kadamo All I See is Gold also just got Good in intermediateclass and in championclass we had SEUCH SEVCH Kadamo Lady in Red "Chanel" who recieved Very Good.

So not our girls day but still very happy with the results of the boys!
Thank you all for a great day around the ring! It became the longest showday in history but it was still nice despite the rain we got in the evening.