Colin Best of Breed with CAC, Loke 2nd Best Male and Chanel Best of Breed Veteran at the Nat. Show in Eskilstuna!
2017-08-21
« Tillbaka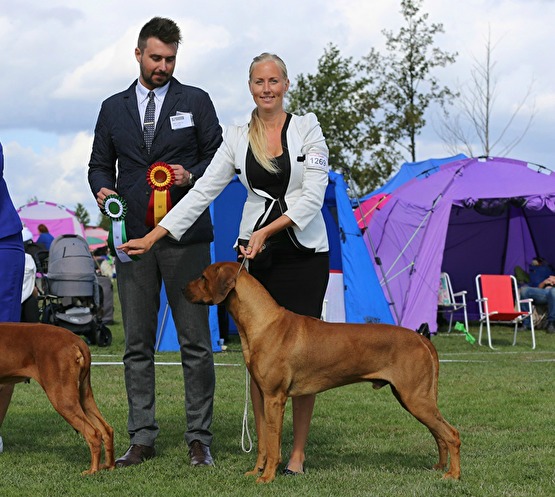 Another fabolous day at the show is done! This time I went to the National Show in Eskilstuna only bringing Colin with me, and of course my babygirls Esther and Tove as cheerleaders!
At the show we were first in the ring in juniorclass which Colin won with CQ!
In intermediateclass Mira's son NOJW-16 Kadamo I Am High Quality "Clinton" recieved Excellent and finished 2nd. In Championclass our very gorgeous boy SEUCH NUCH DKUCH DKW-16 NORDW-16 BISS-13 Kadamo Johnny Walker "Loke" won against strong competition and he went all the way to 2nd Best Male, only beaten by my own Colin! So proud to have my two boys in the very top!
In bitchclasses we only had SEUCH SEVCH Kadamo Lady in Red "Chanel" in veteranclass which she won with Excellent and was Best of Breed Veteran.
Colin and I went back in to compete for Best of Breed and again, this was awarded to him! So I am more than happy and proud of what this young boy has already managed to achieve from only for shows! Two BOB, one BOS and 4 CAC!
We went back for the groupfinals but this time was not the judge favorite so no placement.
A Huge thank you to Tomas who came and took all the great photos below AND helped me keep an eye on Esther and Tove! You are the best!