International Show in Mohed!
2023-06-17
« Tillbaka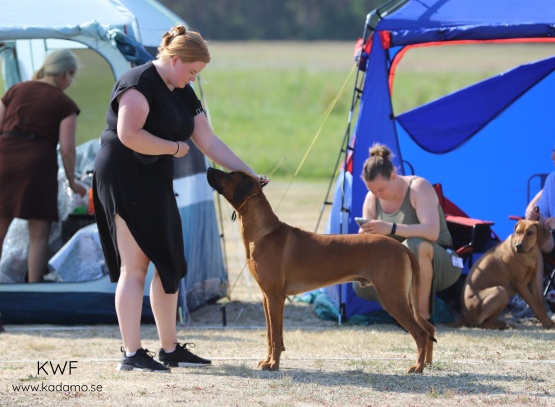 Today we drove to Mohed for the International dogshow judged by Eva Jönsson, SWE. In intermediateclass males we had Kadamo Wonderwall "Dexter" shown by his owner Johanna. They recieved Excellent and placed 2nd in the class.
I showed my boy Colin in Championclass and he got his second ever Very Good! I was a bit suprised since this judge has previously placed him Best of Breed and made him champion... She said she thought he was a bit overweight today. Well... he is not... He is though a boy with lots of mass and on the heavier type. Still not to be confused with weight, since he has never been fat in his life, more the opposite. Oh well... He placed 4th in championclass.

In intermediate bitchclass Dexter sister Kadamo Keep the Dream Alive "Nada" was shown by her owner Katarina and they did very well gaining Excellent and placed 3rd in the class. SEVCH Kadamo Sentra "Luna" was also shown in this class by her owner Johanna but they got their first good...
I showed Tiya for the first time since the puppies and well first time since last summer. The judge said she is an "excellentdog" but today she had to give her very good (the very first she has ever gotten...) due to a bit week topline. Last time this judge saw her she got R-CAC and placement in Best bitch so this was not exactly the results we were hoping for...
All the dogs and their handlers behaved and did so well, so we will forget about this day and hope for better results next time!