Koya Best Bitch with CAC, CACIB and BOS and Bellman R-CAC at Int. Show Lilla Stockholm!
2016-12-03
« Tillbaka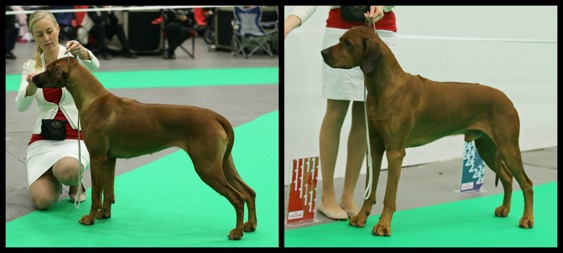 On Friday it was time for the International Dogshow "Lilla Stockholm". Judge was Mr Torbjörn Skaar, SWE and breed entry 60+.
I started off by showing Mira's son SEVCH Kadamo Always Aiming High "Django" in Juniorclass. He recieved Exc and was placed 3rd in the class. His brother NOJW-16 Kadamo I Am High Quality "Clinton" recieved VG and was unplaced.
In workingclass I showed Mira's brother SEVCH RLDN RLDF Kadamo You're the Boss "Bellman" and he won the class with Exc and CQ.
In Best Male Bellman was kept and placed as 5th Best Male with his third R-CAC.

Time for the girls and today from us only SEVCH RLDN NOJW-15 Kadamo I'm in it for the Gold "Koya" present. She won the intermediateclass with Exc and CQ and went all the way to Best Bitch with another CAC and CACIB! So proud of my young girl!
She finshed BOS in the Best of Breed competition which is fine with us! Still happy with her result!

Koya's critique (in Swedish):
"Välbalanserad helhet. Mycket bra feminint huvud och uttryck. Mörka välformade ögon, vacker hals och rygglinje. Välvinklad fram och bak. Utmärkt kropp och ridge. Rör sig bra i bra balans."