1x Best of Breed, 2x CAC, 1x CACIB, 1x R-CACIB, 1x R-CAC and 1x New Finnish Champion for Kadamo in Jyväskylä!
2015-11-23
« Tillbaka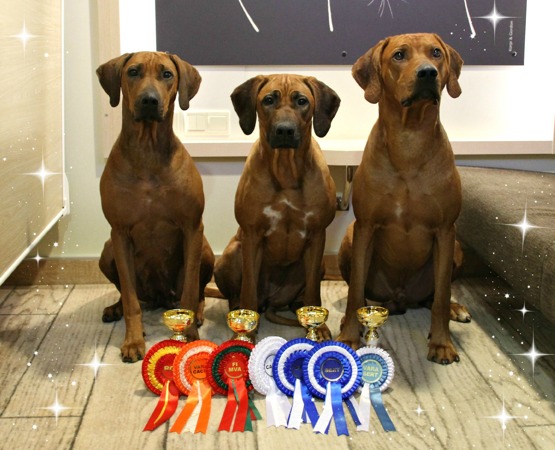 This weekend me, Mira and Koya spend in Finland together with Therese and Kadamo Playing with Fire "Zeppelin".
We arrived with the ferry on Friday morning and had a day to spend in Finland. We went for nice walks in the woods and enjoyed all the SNOW that fell during the day!
On Saturday morning we headed to Jyväskylä for the first International Dogshow, judged by Mr Steven Seymour, GB. Breedentry around 35-40.
I started off showing Zeppelin in Openclass where he did very well gaining Excellent and won the class with CQ.
In Best male he was picked as 5th Best Male with R-CAC... so close to the CAC that we hoped for.
Then it was time for Koya first time in Juniorclass here in Finland. She did just as well and also won her class with Excellent and CQ.
Then it was time for Mira in Championclass. The reason I went to these shows was to try to get the Finnish CAC for Mira. Unfortunately after her puppies left she lost most of her fur and has looked just awful... She has gotten better but still not "recovered" completely.
But I stil felt that since I had already paid her entry to the show I might aswell bring her. Hopefully the judges would see beyound her fur and tits and see her good qualitites.
And I was very happy to see that the judge did! Mira won the strong Championclass with Excellent and CQ so I had both girls competing in Best Bitch.
So thankfully, Therese helped me show Koya and I took Mira and they did so well! Mira won Best Bitch with CAC, making her New Finnish Champion and on top of that she got the CACIB.
Koya and Therese did well but finnished outside of placement.
Mira and I went on to compete for Best of Breed and I am not sure what happened! My girl did it! She won Best of Breed at her very first show after her maternityleave!

We stayed around for the finals this day judged by Mr Harri Lekhonen, Finland. It was a large group and I was happy to see me and Mira being picked out for his Top 6. Unfortunately we did not get placed today but it didn't matter, I was still so happy!

On Sunday it was time for the second International Dogshow judged by Mrs Liliane De Ridder-Onghena, Belgium. Breedentry: around 35-40.
Today started out in a more nervous way, this judge was a very strict one. Before I went into the ring with Zeppelin in openclass only one dog had recieved Excellent. So going in I was just very happy to be the second dog recieving Excellent this day. Unfortunately we did not get the CQ despite winning the openclass with very nice critique.
In Best Male she only had three males with CQ, and from all males only 6 had recieved Excellent, the rest VG or G.
If Zeppelin would have gotten the CQ he would automatically have been given the CAC aswell... so have to say we were a bit disappointed.
But after this it was time for Koya again in juniorclass and of course, I got very excited when she got the first Excellent! And she went on the win the class, and yes, she got a CQ and the judge say she Loved Her!
I did not think Mira would be her type but was very happy when she got Excellent too, and ended up 2nd Best Championbitch with CQ! (Only two of the Championbitches got CQ). This time I shoed Koya in Best Bitchclass and Therese was kind enough to help me show Mira. And both girls did good today with Mira ending up 3rd Best Bitch with R-CACIB and Koya 4th Best Bitch with CAC!
So despite not getting a CAC with Zeppelin I was very happy about the results this weekend!
After a long weekend that went by fast we headed back home again.
Thank you Therese for your company! It was really nice to spend my days with you! Not crazy our anything,,, ever...;)

Thank you Therese and Kati Ketonen for the nice photos!