Leo is our first CIB-J Champion!
2023-08-09
« Tillbaka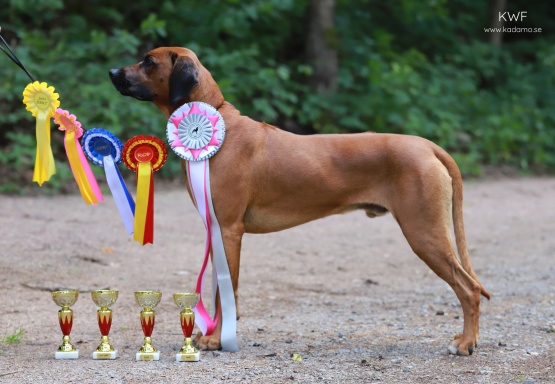 Sweden has it's first International Junior Champion, and it is no other than our own super boy EUJW-23 NORJW-23 NORDW-23 SEJW-22 SEW-22 CIB-J Kadamo Can Y' See It Now "Leo" from our Oasis-litter (Tiya x Maddox).
On Sunday he and his owner Malin showed at the Int. Show in Kuopio, judge Mr. Pekka Teini, FIN. All we really wanted this day for him was to win the juniorclass with J-CACIB since he only needed one more to complete this title. And of course he did! He recieved Exc, J-CAC and J-CACIB and was also placed as Best Male with CAC, Best of Breed Junior and Best of Breed!
So happy and proud that he got this title, which as far as we know he is the first Swedish Rhodesian ridgeback to win!
He really deserves it! Can't wait for this handsome boy to turn 2 years in February and start to chase his final CAC and then complete the titles for Swedish Champion, Norwegian Champion, Danish Champion and Finnish Champion.