Three new Bloodtracking champions!
2020-05-03
« Tillbaka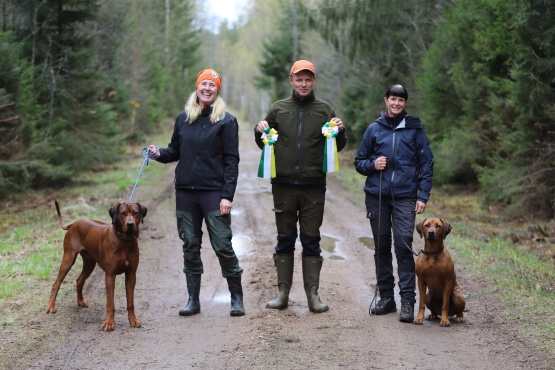 Kadamodogs has been true stars in the woods this weekend. On Friday we had two halfsiblings doing the aptitudetest, Kadamo Just Do It "Bruno" from the It-litter (Mira x Boy) and Kadamo All For the Glory "Inez" from the Kiss-litter (Mira x Colin). Both did very well and passed!
On the same day sister Kadamo Give Me a High Five "Segra" and Kadamo High Expectations "Selma" from the High-litter (Mira x Idde) both recieved a 1st prize in Openclass. This made Segra a new Swedish Bloodtracking Champion!
Today it was time again. Kadamo Come and Get It "Shiro" from the It-litter took his third 1st prize and became Swedish Bloodtracking Champion. Halfsister SEVCH Kadamo Comin' Home "Tiya" from the Kiss-litter took another 1st prize and so did her sister Kadamo All For the Glory "Inez" who made her debute in openclass. Their older halfsister Selma took her third 1st przie today and she also completed her Swedish Bloodtracking Championtitle!
So this weekends results:
2x aptitudetest passed
6x 1st prize openclass
3x New SEVCH

Congratulations and very well done to all of you! A special cheer to Jeanette and Christian who drove the whole way from Skåne to come for this weekend, so nice to spend some time with you again!