Kadamo hitting the hills!
2015-07-17
« Tillbaka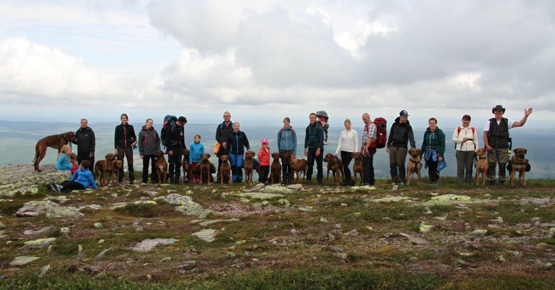 What a week we have had! Evey year for the past few years I have gone with my dogs to the north of Sweden to hike and enjoy the lovely scenery. Every year when I come home I have puppybyers telling me they also want to go.
So this year I thought, why not try to bring them all? I was very happy to see that a lot of people wanted to go so after some months of planning we were 21 people and 15 dogs who headed for Lindvallen, Sälen.
There we had rented a a three storeyhouse with room for all of us! We all arrived there during Sunday afternoon/evening and on Monday we went for our first hike.
We started with the longest one which was about 15 km long and with a lot of stops on the way it took us almost 6 hours. With 6 children with us we adjusted the speed after them, and we were all so impressed with them!
After the first day we all enjoyed a great BBQ and lovely evening at the house together.
Day 2 we all drove to Fulufjället and hiked to Swedens largest waterfall Njupeskär. There we split up and some went on a shorter hike around 5 km and some of us took the longer 10 km walk up and around the waterfall. We got some rain at first but when that passed we had some very nice weather and really enjoyed our hike, which was a bit rough at some places with lots of rocks and steap hills up and down.
When we got back to the cars the rain came again and we headed home for another great meal together.
Day 3 started with a lot of rain so we spend half the day with indooractivites. Some shopping and lunch before the weather finally got better. Some people were driving home today so they went off earlier on a 11 km hike around Tandådalen and some of us went 10 km at Högfjällshotellet in the afternoon. In the evening after dinner all of us who was still there went bowling. It was a great evening, thank you all!

One evening after dinner me and Christoffer got a big surprise from all my puppybyers. They had written a lovely rime, made a gift basket with champagneglasses with our initialts on, some bottled drinks also with our initals and the biggest gift, a huge parasol with the Kadamologo on it. THANK you to each and everyone of you for this! Love you all to bits!

These few days up north was great and I do hope that we can do it again next year, and perhaps be even more people going?!
Below are photos from our three hikes, enjoy!