Koya Best in Show-5 at My Dog!
2016-01-11
« Tillbaka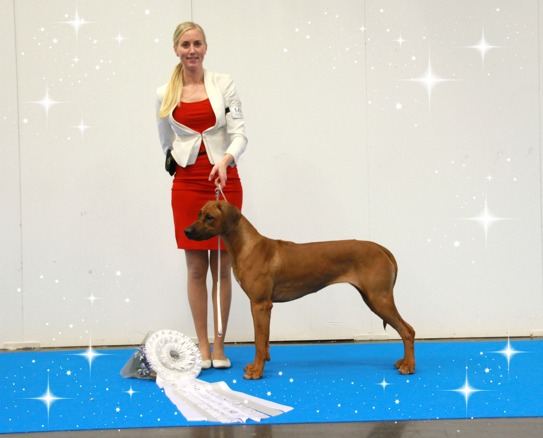 After three very eventful days in Gothenburg I am now at home trying to grasp what just happend at MyDog International Shows!
I decided to go to the shows but only with my young girl NOJW-15 SEVCH Kadamo I'm In It for the Gold "Koya". Koya will be 1 year next week and has been to 7 shows since she became a junior in the middle of October. Her results has been:

SWEDEN:
1x Best Junior, Best Bitch, BOB, CAC, BIG-1, BIS-5, Crufts qualified
1x Best Junior, Best Bitch, BOS, CAC
1x Best Junior, 4th Best Bitch
1x 3rd Best Junior with CQ

NORWAY:
1x Best Junior, Norwegian Juniorwinner 2015, 4th Best Bitch, R-CAC

FINLAND:
1x Best Junior, 4th Best Bitch, CAC
1x Best Junior with CQ

So from all her shows so far she has gained Excellent with CQ and been Juniorclasswinner at all shows but one.
To own a dog like her who has really had a rocketstart of a showcareer is amazing. But to ALSO be the breeder of this dog is even more wonderful!
When I make combinations I try to always plan for the future. One step at a time to get to my final goal of what I think is a sound and beautiful dog.
And to have achive this in Koya, from only two combinations from my starting bitch CIB NORDUCH EECH SEVCH NVCH RLDN RLDF CV Hamnuddens Fischer "Moa" is great.
But I have to say, that what I treassure just as much as these wonderful results is the strong personality that I have seen in Koya these few days.
From the hours spend on public trains, buses, restaurants, crowded trainstations, huge showgrounds with loud speakers, new people, dogs and much more, Koya has stayed cool and relaxed. She has been able to sleep wherever we have been and just kept her high spirit troughout it all.
And no matter how many big wins she will get, it is the dog that I have at home with me that I treassure everyday.

I want to take the opportunity to THANK each and everyone of you who has been congratulating me, sending me messages and just been very supportive. I am humble for all the attention Koya has been getting and how many of you out there that has fallen in love with her. Thank you to each and everyone of you who has taken time to tell me all the kind words about her. I appreciate it all so much!

And I also want to say a big thank you to Ann-Sophie Lindman and Pernilla Svedjeby who came and cheered for me and Koya during the BIS-finals yesterday. Thank you for both photos and vidoes!