Leo and Penny Nordic Junior Winners 2023 and Leo also Best of Breed, BIG-4 and Nordic Winner 2023!
2023-07-10
« Tillbaka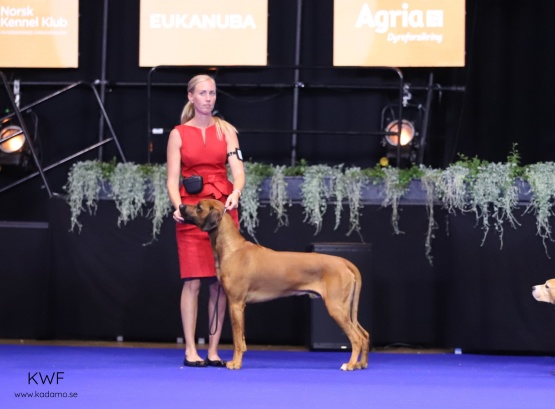 Second day of showing in Sandefjord and this time Nordic Winner Show 2023. Judge this day was Arja Koskelo, Finland breed entry 60+.
First out again was our junior Leo and he did great winning the class with CQ, and also winning Nordic JCAC and the title Nordic Junior Winner 2023.
In Best male he went all the way to Best Male with Norwegian CAC, Nordic CAC and another title Nordic Winner-23. So his new long name is now SEJW-22 SEW-22 EUJW-23 NORDJW-23 NORDW-23 Kadamo Can Y' See It Now "Leo"
Time for sister Penny to also enter the juniorclass and she did just as well as Leo. She also won the class with Exc and CQ, Nordic JCAC and the title Nordic Junior Winner -23.
After her I showed Tiya in openclass and she finished 3rd with EXC.
In Best bitch Penny finished very nicely second with R-CAC and R-Nordic CAC and her full name is now SEJW-22 SEW-22 NOJW-23 NOW-23 NORDJW-23 Kadamo Force of Nature "Penny".
In Best of Breed competition Leo did great and the judge caled him fabolous, making him Best of Breed!
Two days in a row standing with the Best of breed, one day Penny and the other day Leo, amazing!
We went back to our flat for a couple of hours rest for the dogs, especially Leo before heading back to the finals in the afternoon. Today's group judge was Pedro Delerue, Portugal. He had previously that day judged many of the group 4 and 6 breeds so I was very happy that he still picked out Leo for his top 6 in the main ring from over 30 dogs.
I got even happier when we were announced on the speaker that we were placed as BIG-4!
What a great way to end this day of showing!