Huge success at Danish Winner Show!
2016-11-05
« Tillbaka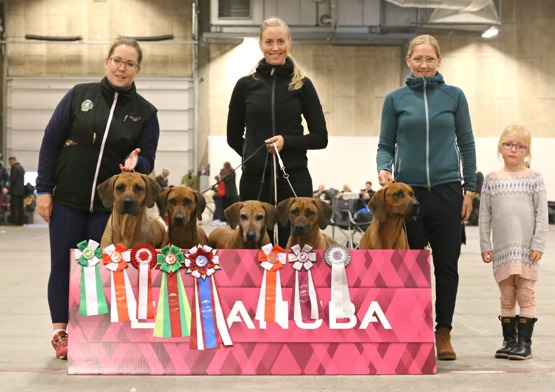 Today we entered the International Danish Winner Show in Herning. Breed entry was 60 + and judge was Per Iversen, NO.
First out was our juniormale Kadamo I Am High Quality "Clinton" who recieved VG and placed 5th in the class.
After him it was time for SEUCH NUCH BISS-13 Kadamo Johnny Walker "Loke" for the first time to enter the showring in Denmark. He did it in the most excellent way by winning the Championclass with CQ, winning Best Male with CAC, CACIB aswell as three new titles, Danish Winner-16, Danish Champion and Nordic Champion! Biggest congratulations to his owner and handler Ewa!
After him it was time for the girls and first out was SEVCH NOJW-15 Kadamo I'm in it for the Gold "Koya" and she won the intermediateclass with lovely critique, Exc and CQ.
In Championclass I showed SEUCH FINCH NUCH EECH SEVCH RLDN RLDF LP1 Kadamo Bringin' It Back "Mira" and she made it all the way to 2nd Best Championbitch with Exc and CQ.
After her it was time for her mother CIB NORDUCH EECH SEVCH NVCH RLDN RLDF LP1 SEVW-14 Hamnuddens Fischer "Moa" to enter the veteranclass.
When she was around 2-3 years old she was shown for this judge and won CAC and Best of Breed two times! So I was excited to show her for him again, even though several years had now passed.
Moa won the class which gave her the Danish Veteran Winner-16 title aswell as taking her to compete for Best Bitch.
Having all my three girls placing in the top in their classes I was happy to have my friends Ewa and Petra there to help me show them. I showed Mira and she became 2nd Best Bitch with CAC and CACIB making her New Danish Champion!
Her mother Moa finished at a wonderful 4th Best Bitch placement and Koya today outside placement.
I am so extremely happy and thrilled over the results today! So happy with the three new championtitles, two new winnertitles and the two CACIBs we got!