Mira and Loke New Norwegian Champions and Mira also Nordic Champion!
2016-09-13
« Tillbaka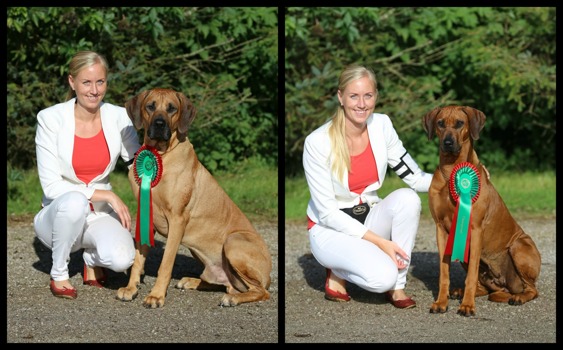 Were to begin... A while back I decided to go the International Dogshow in Stavanger, Norway. The show was being judged by Bo Skalin, SWE. I had only shown for him once before but he then made Mira Best of Breed.
So I just could not resist the trip, a chance for both CAC, CACIB and two new titles...
I don't know how I did it but I was able to lure my friend Ewa and her male Loke (SEUCH BISS-13 Kadamo Johnny Walker) to come along.
So this past Friday we set off! Our first day on the road was about 6-7 hours in the car. We stopped for some nice short walks before arriving at our cottage at Onsakervika camping.
We woke up to a little bit of rain but a very nice scenery with the beach and lake just outside our door.
We started the second part of our trip, around 7 hours more of driving and enjoyed lovely scenery in the Norwegian mountains. We stopped for a few walks and of course photoshoots! The weather wasn't great but who cares when the nature around you is still beautiful!?
We arrived in Stavanger pretty late. We settled in at our hotel and fell asleep without any problems!
Sunday morning and time for the show! Loke was shown in Championclass against several other lovely boys. We were very happy with him placing 2nd in the class with Excellent and CQ. Time for best male and he finished 2nd, only beaten by the winning championmale. So with this he won Norwegian CAC, r-CACIB and became Norwegian Champion!
After him it was time for Mira in Championclass, the biggest classes of the day was the championclass... everyone there for the CACIB!
Mira did just as well as Loke and she also finished 2nd in Championclass with Excellent and CQ. She followed in Loke's footsteps and finished 2nd Best Bitch with CAC, R-CACIB and became New Norwegian and Nordic Champion!
So happy with our results! Of course it would have been nice to have those two CACIB's aswell but you can't win it all everytime! ;)

After the show we started our very long drive back home... It took us 14 hours to get home. We of course made a few shorter stops on the way to stretch our legs and let the dogs out. We were both pretty tired going home but the trip was really worth it!

Thank you Ewa for coming along giving me a very nice and successful weekend in Norway! Let's start making new plans!