Things does not always go as planned...
2016-03-16
« Tillbaka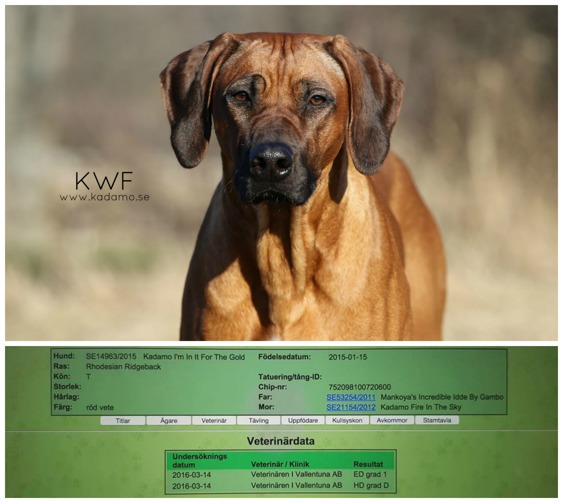 I had the feeling this was coming... 1 year ago when the GOLD-litter (Kayla x Idde) was born there was a special little girl, Ms Red who stood out. She and my then very young daughter Ellen seemed to have a connection and I had less than 6 months earlier lost my precious first Ridgeback, Dando.
So the decision was not very difficult, Ms Red was named Koya and became a new member of our pack.
Koya was right from the start and eyecatching dog. She is a very sweet girl with lots of beauty!
Right from the start she got the attention of the judges and at her first show as a junior she won the Norwegian JuniorWinner -15 title aswell as R-CAC and 4th Best Bitch.
After that she has also gained Best Bitchplacements in Sweden and in Finland, and has 1 Finnish CAC and 2 Swedish CAC.
Her highligts so far being so young was winning Best Bitch BOTH days at MyDog this year, day one as BOS and day two all the way to Best of Breed, BIG-1 and also BIS-5, only a week away from her 1st Birthday!
Koya is also a true workingdog with a lot of personality from her mother. She started doing Bloodtracking early and gained her Swedish Bloodtracking Championtitle less than 1 year old.
I hope she will become a good obediencedog aswell and our goals is both Rallyobedience and Obedienceclass 1.
When you get a dog like this, you can't help but to think right from the start that things will go wrong somewhere down the line...
And for us it did... when it was time for X-rays. Koya is the 4th dog from her litter to be X-rayed, so far the others has been clear but Koya is not. Koya has very loose hips and they were graded as D. She also got the grade 1 on her elbows.
This of course means that Koya will never be used in breeding. The saddest thing is that I know that this comes as a great disappointment to not only me, but to many others out there who has also fallen in love with her and hoping to one day own a little piece of her themselves.
So I am very sad to share these news with you... Sometimes things just doesn't go as planned...
Koya will hopefully not ever have a problem from her hips or elbows and be able to live and active and normal life as great dog in all other aspects!