Moa classwinner with 1st prize and the LP1 title today in Obedience!
2016-05-25
« Tillbaka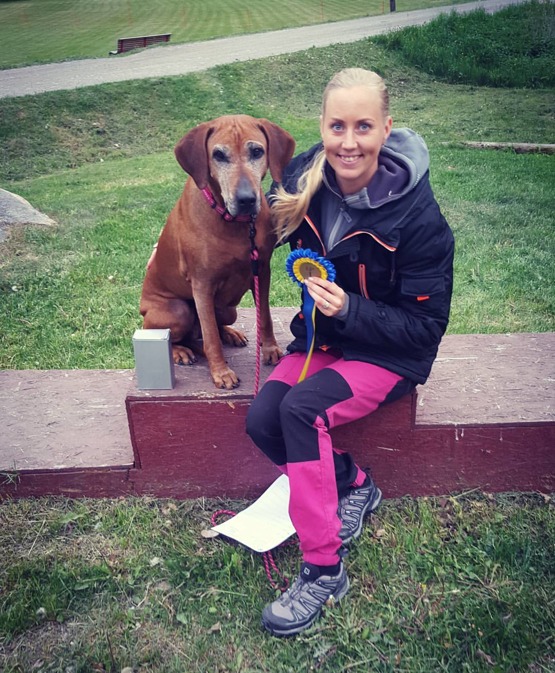 In the fall of 2009 I competed four times with Moa in Obedienceclass 1. Back then, all those years ago we were tumbling close to a 1st prize but never got it. We had cold weather and not good settings for Moa back then, and winter came and after that she had puppies in the spring of 2010, and again in 2012. For some reason we didn't get back to Obedience but instead started to compete in Rallyobedience and she easily completed her RLDN and RLDF titles.
After that I felt like I had achieved my goals and just left the obediencetraining to rest. Until earlier this year... I started to compete with her daughter Mira and she won the LP1-title. I then realized that my first dog Dando got the LP1, my third dog Yaya got LP1, my fourth dog Mira got LP1 but Moa... my second dog, the mother or grandmother to most of my puppies, she didn't have LP1-title... Well, we just can'g have that!
So in April, about 5 weeks ago Moa and I started in our first Obedienceclass 1 competition in 6,5 years! Then she did ok and got 152 points, a second prize and a 2nd place. It was good but not a 1st prize (the limit is 160 points).
Three weeks later it was time for our second competition and things went really well then! She got a 167 points, her first 1st prize and also won the competition!
One week later it was time to compete again, worst possible weather, cold and rain... and the results was as bad as the weather... 128,5 points and a third prize...
I almost gave up but we had two more competitons planned so, one week later, a little bit better weather we were at it again!
Moa did well, not amazing in any way but good enough. We got 161,5 points which was enough for a 1st prize and a 2nd place.
And then it was today... My nerves were bad... This could be the day that she would get that much wanted LP1 title... The forecast said 10 degrees and perhaps rain... But I would not give up hope!
And thank you god we got no rain! Moa felt absolutely great all evening. I did not see many of my scores whilest competing but it didn't matter, I was so happy and saticfied with her anyway!
She got to lay in the grass enjoying a tasty bone for a long time afterwards and I could just relax! I did feel like we should have gotten enough points to make that last 1st prize, but I was excited for the awardceremony.
They started from the back calling out names and scores, and more and more names were said, but still not ours... All of a sudden we were up there, the last three dogs.
And my queen, my golden oldie, she won the whole thing! She got a 174,5 points, a 1st prize, the LP1 title and 1st place! Not a bad way to finish off this adventure!

I am so happy that I decided to prove to myself, that I can train all my dogs to at least a LP1 title. With a ridgeback who is not a workingbreed in the official way, to me it is an achievement. I don't feel ashamed to say that I am very proud of myself, for being able to bring this out in each of my dogs so far. If you set your mind to it you will make it! It might not be easy, but who cares, the road to the goal is a part of the goal too!
Your dog is never to old to enjoy an active life! Moa is a proof of that!
So love to you Moa, and to all your puppies and their puppies, who are blessed to have a little bit of you in them! You have something special!

By the way, Moa now only listens to her full name,
CIB SEUCH NUCH FINCH EECH SEVCH NVCH RLDN RLDF LP1 SEVW-14 Hamnuddens Fischer CV!