Showsuccess with 2xCAC and Best of Breed, Best Opposite, Best In Show Junior and Best in Group-2 for Tiya and Leo in Ikalis, Finland!
2023-08-05
« Tillbaka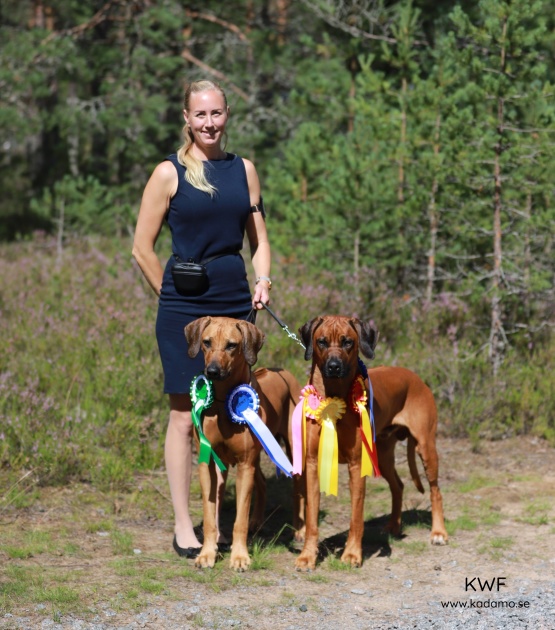 On Thursday evening me, Esther and Tiya (SEVCH Kadamo Comin' home) met up with Malin, Andreas and Leo (SEJW-22 SEW-22 EUJW-23 NORDJW-23 NORDW-23 Kadamo Can Y' See It Now) by the ferry in Stockholm and together we travelled to Åbo in Finland.
Friday we spend just driving to our cottages and making stops to walk the dogs in the woods.
Today was our first day of showing. Judge was Mrs Erja Nummi, Finland.
I showed Leo in juniorclass (last time for me showing him in this class <3) and he won with EXC-1, CQ and J-CAC. He also won Best Male with finnish CAC!
After him I showed his mum, my girl Tiya and she won the openclass with EXC-1 and CQ and she also went all the way to Best Bitch with CAC! This is her second finish CAC so she only need one more to complete her championtitle.
Time for Leo and Tiya to compete for Best of Breed, which Leo won. He was also Best of Breed Junior and got to compete in two finals in the big ring. He first entered BIS-juniorfinals and was picked out for the top 6. He then went all the way to Best in Show Junior judged by Marianne Holm Larnemaa, Finland.
In group-6 finals he was again picked out in top 6 and finished BIG-2! Such a great end of our day! Thank you Malin and Andreas for letting me show your handsome boy!
Tomorrow a new day with dogshows!