Kadamo 10 year Anniversery!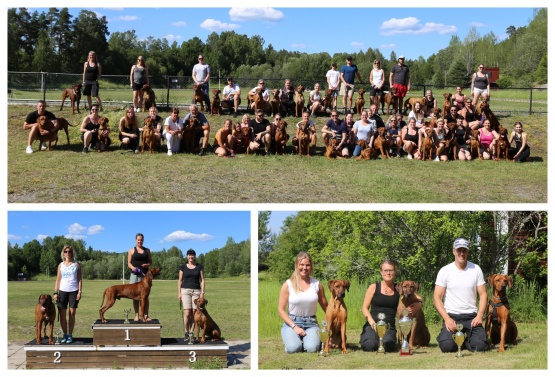 On the 25th of March 2009 my A-litter was born. That was 10 years ago and of course that had to be celebrated!
I decided to invite all my puppies on a true dogweekend! We started on Friday afternoon with trying some nosework and listening to a lecture in physical training.
On Saturday we went to the dogracetracks in Västerås and started the morning with a lecture in First Aid for dogs, both in theory and practically. Everyone got to learn CPR, checking pulse, making a bandages and more.
The dogs got to try the racetrack aswell as do some rallyobedience. I had found some very generous sponsores which made it possible for everyone to get a goodiebag and more prizes. Thank you Agria, Royal Canin, Tomas Lindgren/Chilli Design, Hundsimmet, Jenny Jurnelius Photography, Veterinären i Vallentuna, Nutrolin, Therese Berglind/Granngården, Lelles MC and Annelie Kvarnström.
On Sunday we went to Älgripans hundcenter in Årsunda. 14 dogs started the day in the woods competing in bloodtracking, all dogs got to try peoplesearch, meet a "fakebear" and learn about massage and stretching.
A long and busy weekend, filled with fantastic dogs and people, all working together making this weekend really great!
Thank you each and everyone for coming, it means so much for me that you came!

In these past 10 years 11 litter has been born, 110 puppies (5 stillborn/put to sleep as puppies), 88 are alive living in Sweden, 43 dogs and 60 people attended this anniversery.
My 100th puppy born in the kennel happend to be Kadamo Comin' Home "Tiya", my own girl from my last litter!

Below are three different albums with photos from our weekend, I had so many photos so they did not fit in one! Enjoy!