Argos Best of Breed and BIS-4 puppy and uncle Dexter 2nd Best male with R-CAC in National Show in Visby!
2015-08-29
« Tillbaka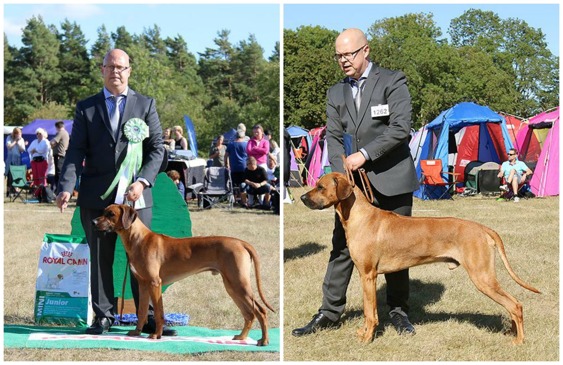 Today it was time for day 1 in Visby on the island of Gotland. I have three of my boys present there for the shows this weekend and they all did great today.
First out was Kadamo Nothing But Gold "Argos" (halfbrother of my newborn H-litter puppies). He was placed as Best male puppy and Best of Breed puppy.
In the afternoon in the big finals he went all the way to BIS-4!!! Huge congrats to you!

In openclass Argos two uncles SEJW-12 Kadamo Rob Roy "Dexter" and BISS-13 Kadamo Johnny Walker "Loke" did great both recieving Excellent and placed 1st and 2nd in the class with CQ.
In Best male Dexter did great placing 2nd Best male, only beaten by a Finnish championmale, and in that "lost" his CAC to that dog and got the R-CAC.
I am not sad over such a great placement, but sweet and handsome Dexter so deserve to get that last CAC for his Championtitle, and he has been so close to it lately so now it just has to be his turn!
Congrats to all of you for a great day and good luck tomorrow!