Koya got 3 qualifying runs in 1 day in Rallyobedience Noviceclass and the RLDN-title aswell as classwin!
2016-10-03
« Tillbaka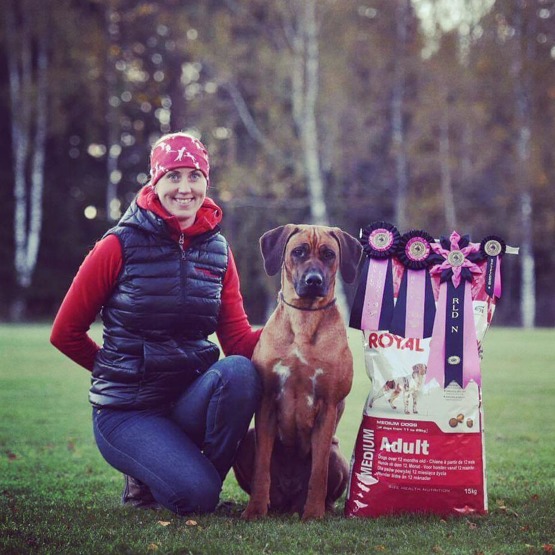 Yesterday it was finally time for me and Koya to make our debute in Rallyobedience Noviceclass. I haven't had the time to practise as much as I would have liked but at least she knew all the different moves so I thought we might aswell give it a try!
I found a competition at Gävle BK with three competitions in one day. The only one I have found with a change to gain the RLDN title in one day.
To get the title a dog needs three qualifying runs with a score above 70 (maximum is 100 points).
Our first start went well, she was pretty slow so now I know her competition "mode" is typical slow ridgeback... Despite the slow paste she did everything and we got 95 points and finished t 3rd place out of 31!
Our second run was also before lunch, a bit more difficult course and she did ok, I did a little mistake but overall ok. We got 89 points and with that finished 4th out of 31 again! So really happy so far!
Our third and last run for the day was late in the afternoon, so we had a few hours to kill while waiting for our turn. I was afraid that three competitions and such a long day would be to much for her but since she had done so well already I wanted to try for that last one, so we stayed.
And I am very happy that we did! Our third and final run was out best! Unfortunately I did not have anyone to film us then but I got some photos from my friend Emma.
Koya scored 99 points out of 100 and made it all the way to 1st place! This gave us her third qualifying run and her first Rallyobedienetitle, RLDN!