Last show of the year Nordic Winner Show!
2019-12-15
« Tillbaka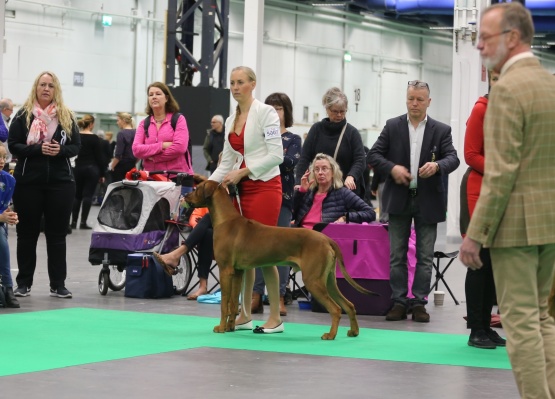 Today it was time for the last show of the year. I started off by showing the son of Mira and Colin, Kadamo God of Thunder "Zeke" from the Kiss-litter. It was his official showdebute in juniorclass and he did great. He recieved Excellent and was running in first place until the last lap where he was moved to second. But still happy with 2nd Best Juniormale with CQ at his first show.
In Openclass Kadamo Fire it Up "Arrax" from the Fire-litter (Enya x Leo) and recieved VG. After this it was time for the girls and Tiya's second time in juniorclass. She recieved Excellent and placed 4th with a very nice critique.
In intermediateclass I got to show Kadamo I Am Bagheera "Heera" from the Jungle Book-litter (Segra x Khan) and she did very well, recieved Excellent and placed 2nd after the bitch who went all the way to Best of Breed today.
I had two lovely veterans present today. SEVCH Kadamo From Me to You "Troya" from the Beatles-litter (Moa x Wilson) who was shown for the second time ever in her life today, recieving a VG. SEUCH FINCH SEVCH SEVW-18 Kadamo Thinking of Tilley "Tilly" from the Canada-litter (Yaya x Akala) recieved Excellent and placed 4th Best Veteranbitch.
Happy with a nice day around the ring with friends and my sweet daughter Ellen who stayed patient the whole day keeping us company!
Thank you all for a great and successful year. See you around the ring next year for more fun!