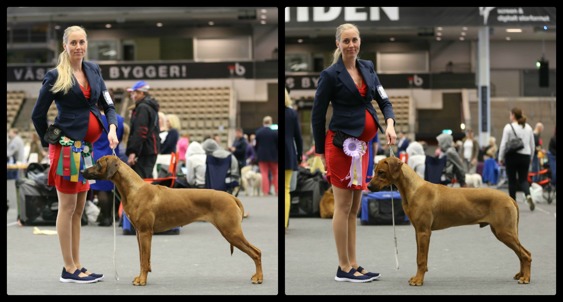 Yesterday it was time for the National show in Västerås, breed entry 50+ and judge Birte Scheel, Denmark. In intermediateclass we had brothers SEVCH Kadamo Always Aiming High "Django" and NOJW-16 Kadamo I Am High Quality "Clinton". Clinton won the class with Excellent and Django finished 2nd with Very good. A strict judge today so now CQ (and a lot of VG..)
In Championclass we had lovely SEUCH NUCH DKUCH DKW-16 NORDW-16 Kadamo Johnny Walker "Loke" and he finished nicely 4th and also 4th Best Male.
I showed SEVCH RLDN NOJW-15 Kadamo I'm In it for the Gold "Koya" for the second time this year and also her second time in Openclass. I was so excited when she finished as classwinner with Excellent and CQ. We were really there to compete for her last needed CAC to complete her first championtitles, so this was the best start!
In Veteranclass SEUCH SEVCH Kadamo Lady in Red "Chanel" made her debut and she finished 2nd with Excellent.
Time for Best Bitch and Koya was picked out together with the juniorclasswinner and the top two championbitches, where the winner was not Swedish Champion yet... so we were three wanting the CAC... Nervous to say the least!
But my princess she did it! She took Best bitch winning her 10th Swedish CAC! Since she has now turned 2 years that meant that she became Swedish Champion! Since she also had CAC in both Norway and Finland she also completed the Norwegian and Finnish Championtitle!
This was our last show before it is time for me to take it more slow since I am pregnant with twins expected for June. So I am so happy that we got this result before our little break from the showring!
I had little Amatonga's Golden Boy to Kadamo "Colin" with me and showed him in puppyclass. He got to compete against his brother Yoshi and today Colin was the judges favourite and he was placed as Best male puppy with HP. We got to compete against the Best Bitch puppy and Colin went all the way to Best of Breed puppy!
He had a tough day with Koya being in heat and him pretty much this day realising how much "fun" that is... So concidering that he did a great job even being able to stand or run in the ring!
Next time he will enter the ring it will be as a junior!
Below are some photos from our day, thank you especially Petra and Ewa for company, borrowing of cloths and help to take pictures!
Läs hela inlägget »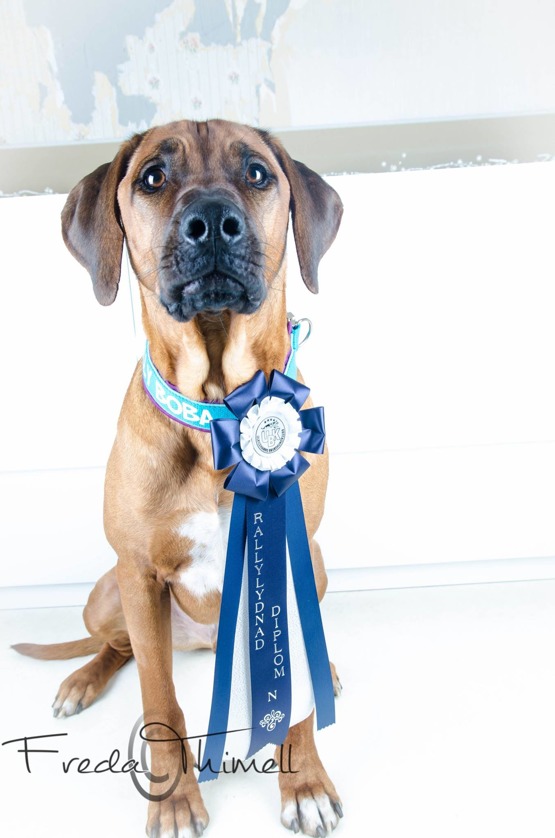 Today "Boba" from the Gold-litter (Kayla x Idde) finished his RLDN-title by gaining 94 out of 100 points at todays rallyobedience competition. We send a big congratualtion hug to him and his owner Freda for this great achievement! Boba can now call himself RLDN Kadamo Digging for Gold!
Läs hela inlägget »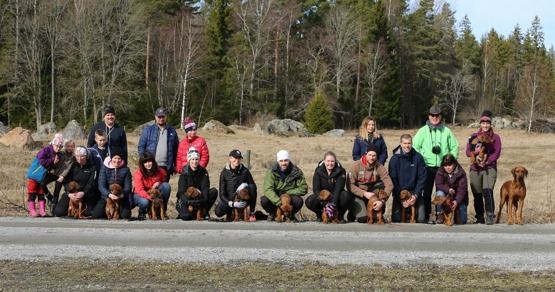 The puppies in the It-litter (Mira x Boya) has now turned 12 weeks old and they are all doing very well in their new families. We have had two puppyclasses, one two weeks ago and one today and they are making great process with their owners.
I am happy to have so many of them showing up and I hope that we will have all 12 puppies here with their owners next time!
Below are some mixed photos from both times in puppyclass, 10 weeks and 12 weeks old.
Läs hela inlägget »
Vår Lydnadskurs
Sommar Kadamo Vandring
Sommar Kadamo Mästerskapen i Viltspår