Another great day in Denmark at Nordic Winner Show!
2016-11-08
« Tillbaka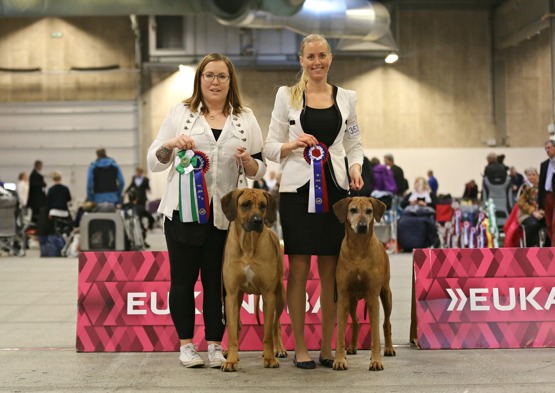 Our second day showing in Denmark and today it was time for the Nordic Winner Show. We started off in a great way with Kadamo I Am High Quality "Clinton" (Mira x Idde) placing 2nd Best Juniormale with Exc and CQ, only one dog from the Juniorwinner title...
After him SEUCH NUCH DKUCH DKW-16 BISS-13 Kadamo Johnny Walker "Loke" continued in the same way as the day before, by winning Best Male and BOS for the second day in a row! Since he got the DKUCH and NORDUCH title yesterday today he "only" got the CACIB and NORDW-16 title!
So proud of this handsome big boy and his great owner/handler Ewa! So well done!
After the boys it was time for SEVCH RLDN NOJW-15 Kadamo I'm In It for the Gold "Koya" to show off by winning the Intermediateclass, also for the second day in a row. She went all the way to 3rd Best Bitch unfortunately only with R-CAC.
SEUCH NUCH FINCH DKUCH EECH SEVCH RLDN RLDF LP1 Kadamo Bringin' It Back "Mira" finished verey nicely 2nd in the Championclass with CQ but was unplaced in best bitch today.
Her mother CIB NORDUCH EECH SEVCH NVCH RLDN RLDF LP1 Hamnuddens Fischer CV "Moa" was again entered in Veteranclass and won it for the second day in a row! This giving her the NORDVW-16 title aswell as her winning Best of Breed veteran just to top it off!
I am so proud of all my "kids" showing off in Denmark this weekend!
We might have had extremely bad luck with everything else this weekend (our cottage almost set on fire... my car breaking down 1000 km from home and so on..) but instead of focusing on everything that went wrong I keep thinking of all our success instead, making this trip all worth it in the end!
Thank you Ewa, Petra, Göran and Annie for your company this weekend!