Koya New Swedish Bloodtracking Champion today!
2015-11-07
« Tillbaka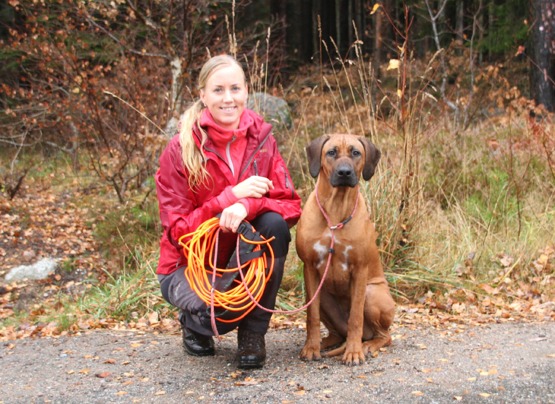 She did it! My sweet little youngster got her third 1st prize in Openclass bloodtracking today and became SEVCH- Swedish Bloodtracking Champion only 9 months and 3 weeks old!
She has recieved 1st prize from three different judges and that makes me very proud!
I have noticed that her hormones are starting to play tricks on her so I suspect that her first heat is not to far away. So because of this I wasn't sure if I should continue to track for this title this year, or just leave it for next year.
But after gaining two 1st prizes I felt like we had to try for a third, and I am happy that we did!
So let me introduce to you, SEVCH NOJW-15 Kadamo I'm in it for the Gold "Koya"!
Koya is the first one out from the Gold-litter (Kayla x Idde) to recieve this title, but I know for sure she has siblings who will follow! For Kadamo she is the 27th Bloodtrackingchampion! So proud of that! Not far from 30 SEVCH for Kadamo now!
With us in the woods today we had Koya's uncle SEUCH FINCH EECH SEJW-12 Kadamo Rob Roy "Dexter" who started his first openclasstrack, and he did great aswell gaining a 1st prize!
Keep it up and soon he'll get that championtitle aswell!