Daisy Best Bitch with CAC and Nordic CAC in Gimo!
2018-05-27
« Tillbaka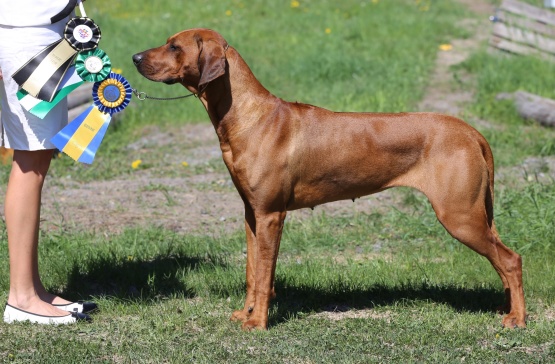 Today it was time for my very first "Nordic" Show, the new type of show in the Scandinavian countries were you can compete for both CAC and Nordic CAC.
The showground was Gimo where I have acctually never been before! I started to show Colin in intermediateclass, he won the class with Excellent but no CQ because the judge thought he was to skinny. And he is... we have two bitches in heat at home and Colin has spend the last few days with our neighbours but he doesn't want to eat, and has escaped through looked doors twice and ran the whole way (about 5km) back home to us... So yes, he is not his best self at the moment, but of course I still think he deserves his CQ.
In openclass NOJW-16 Kadamo I Am High Quality "Clinton" won the class with VG. For the first time in Veteranclass we had SEUCH SEVCH Kadamo Don't Mess with Texas "Charlie" who won the class with EXC and was Best Veteran.
We had only one girl with us and that was our junior, on her second show and she kicked ass! Kadamo Brings It Back Again "Daisy" won the juniorclass with EXC and CQ and went all the way to Best Bitch with CAC, Nordic CAC and was Best Opposite Sex!
Thank you Petra and Olle for a very nice day!