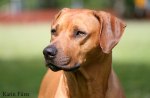 Yaya is the third addition the kennel. Yaya achieved more success than I could have dreamed for at the shows and has also been successful in bloodtracking, obedience and rallyobedience. I love her to death and she is the one of my dogs who would walk trough fire to be with me! She is always by my side!
SEUCH SEVCH RLDN RLDF BPISS-13 Kadamo Bringin' It Back "MIRA"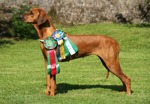 Mira is the fourth addition to our pack and she is the first dog I have kept at home from my own breeding. She is very special to me, since her mum is my girl Moa and this was her last litter, the Elvis-litter. Mira's dad is also the sire of my other girl Yaya, making Mira and Yaya halfsisters.
So Mira is the result of a mix of my two girls and of course I have high hopes for her future. But most of all I feel blessed to have my two wonderful girls Moa and Yaya combined into one, Mira.
I know they will teach her everything they know, both good and bad!