Oasis-litter 1 year birthday walk!
2023-02-26
« Tillbaka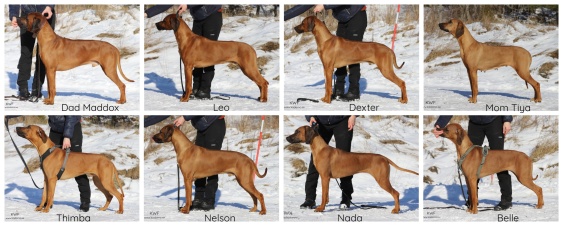 Today I met up with six of the puppies from my Oasis-litter (Tiya x Maddox) with both their mum Tiya and dad Maddox also present. We had a wonderful walk in the sunshine, even though I would say most owners struggled with the not pulling on the lead part... ;)
Of course I took the opportunity to get some photos of all of them, and I think they are all beautiful!
Thank you everyone who was able to attend today, wonderful to see you all again. Look forward to lots of fun with this bunch this year both in the showring but also in the woods tracking and more.
Above is a little collage of the stacks we took with photos also of mother and father. Not everyone understood exactly what I wanted them to do but still we got some sort of stack of everyone.