Training and photosession with Nada!
2023-04-10
« Tillbaka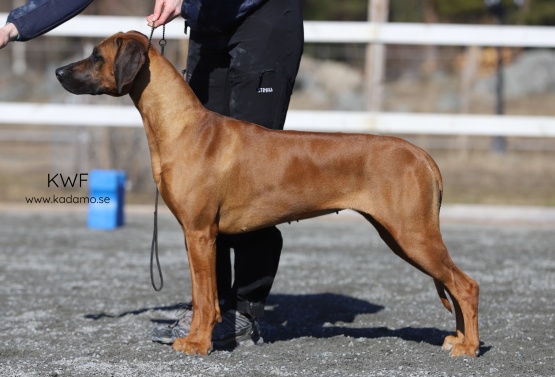 Some thoughts about my breeding. I have now been breeding rhodesian ridgebacks for 14 years and I have my 16th litter at home at the moment. I always have vision in my head of what I think a sound ridgeback should look like, both for function and for the showring. And depending on the dog you have to start off with the road to the goal might differ.
As we all do, I look for a type that attracts me, but choosing studdogs and bitches are so much more than looks. It is personality, health, temperament and qualities I want to strengthen in our breed.
This means some dogs are selected as good matches, and with some you have to accept that they are not good enough.
But now here I am, with my Oasis-litter now a bit over 1 year old, where I am the owner of both studdog and dame, and owner and/or breeder of grandparents, and great grandparent. I can see how the choices I have made in what studdog to buy and use in my breeding has really brought my own lines qualities that I needed to improve.
In this bitch on these photos, Kadamo Keep the Dream Alive "Nada" I think I have really accomplished my goal! And also in her successful siblings!
Her mother is my SEVCH Kadamo Comin' Home "Tiya" (also mother to my current litter). Her sire is a male I bought to match Tiya and he sure did, SEUCH FINCH NUCH SEVCH Ave Caesar Diamond Jewel of Rubi "Maddox".
Tiya's mother is my CIB SEUCH FINUCH NUCH DKUCH ESTCH SEVCH RLDN RLDF LP1 BPISS-13 Kadamo Bringin' it Back "Mira". Tiya's sire I bought to match Mira, and I think he also really did that, SEUCH FINCH NOUCH SEVCH NOJW-17 NORDJW-17 FINJW-17 HEJW-17 HEW-17 Amatonga's Golden Boy to Kadamo "Colin".
Mira's dame was my queen and foundationbitch CIB SEUCH NUCH FINCH NORDUCH EECH SEVCH NVCH RLDN RLDF LP1
SEVW-14 DKVW-16 NORDVW-16 Hamnuddens Fischer CV "Moa". Mira's sire was also my bitch Yaya's sire, and used through frozen semen, AUST CH BISS BIS RUBISS Lionsbane Hes the Boss "Kimba".
Moa's sire was the brother of my very first ridgeback, SEUCH SVCH Hamnuddens De Stijl af Argos "Vegas".
What I want to say is, I am soooo proud to have bred this dog, and her siblings. I work hard and try to keep my eye on my goal even though it will take a few years, and generations to get there. There will be setbacks, and you will have to back up and try again, but in the end, it will be worth it.
Look forward to see if her tiny halfsiblings will grow up and be just as beautiful as her!