Jag har en ridgelös levernost hanvalp på 7,5 månader som letar efter ett nytt hem pga tidsbrist. Ej till utställning eller avel. Vill gärna komma till någon som kan ge honom ett aktivt och kärleksfullt hem. Kontakta mig på karin@kadamo.se för mer information.
Puppies planned for winter 2018/2019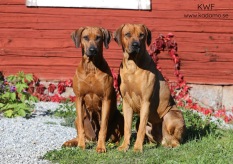 Mira (CIB NORDUCH EECH SEVCH RLDN RLDF LP1 Kadamo Bringin' It Back) has been mated with Colin (SEUCH NUCH FINCH SEVCH NORDJW-17 NOJW-17 FIJW-17 HEJW-17 HEW-17 Amatonga's Golden Boy to Kadamo) in October. Puppies expected in December 2018. More info here!
Contact me at karin@kadamo.se for more information and puppy inquiries.
Inga planerade aktiviteter just nu.