Showweekend in Sandefjord Norway resulted in two Norwegian CAC for Maddox!
2022-06-20
« Tillbaka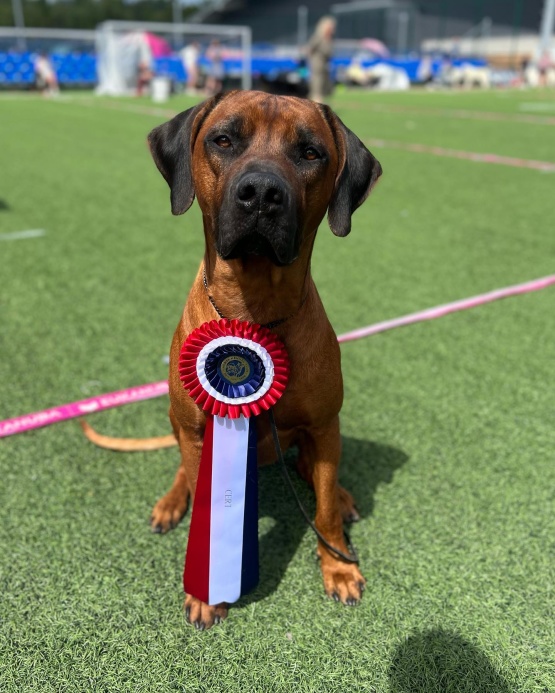 On thursday me and my daughter set off towards Norway with Maddox and Tiya. It was a 7 hrs trip so we made some stops on the way, and arrived at our hotel in the evening.
On Friday it was our first show, International dogshow judged by Paula Heikkinen-Lehkonen, breed entry 42. Maddox won the openclass with Exc and CQ and finished 3rd Best male with Norwegian CAC. Tiya got Exc but unplaced.
After the show and some rest we walked around the town and harbour. We got a bit of rain this evening so we had a quite night and rest.

On Saturday it was time for the National show Norwegian Winner-22 judged by Bertil Lundgren, breed entry 51. Maddox got EXC and placed 4th in openclass and Tiya also got Exc and placed 3rd with CQ, but unplaced in Best Bitch class.
This day I helped my friends Pernilla and Jidde to show their veteranbitch and we managed to win the class with the title Norwegian Veteran Winner-22 and also Best of Breed Veteran.
Congratulations to owner and breeders of her, Adoreas Rirdged Chewbecca.
After we finished this day the weather was still warm and sunny so we headed to a harbour with a small beach where we enjoyed a couple of hours relaxing with the dogs.
After that back to the hotel for some rest before we headed out for dinner at a restaurant with Pernilla and Jidde. Thank you both for a nice evening and lovely meal.

On Sunday it was time for the second international dogshow judged by Pierluigi Buratti, breed entry 42. Maddox got Exc with CQ and placed 3rd Best Male again with his second norwegian CAC. Tiya got Exc but was unplaced.
After the show we headed back home with a stop for icecream on the way. It was three really nice days in Norway, great company around the ring and nice to see people I don't see very often. Congratulations to all the winners!
Thank you Jaana Manninen for photos from the show!