Supersuccess for Colin in Finland! He got 4x New Winnertitles and 2x CAC!
2017-12-11
« Tillbaka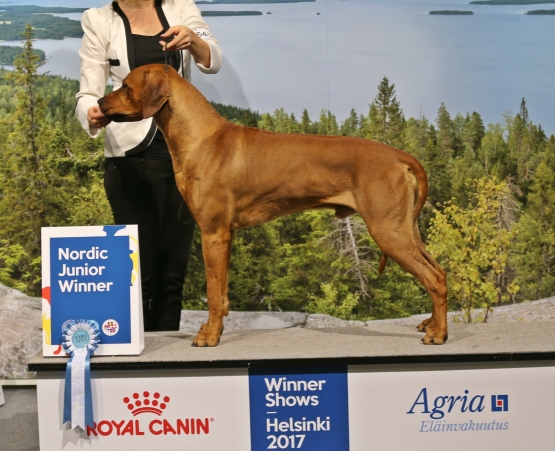 We have had the most successful long weekend in Helsinki, Finland. This was the final showweekend for Colin this year and he ended it in grand style!

On Friday it was Helsinki Winner-17 judged by Saija Juutilainen and he did awesome! He won the juniorclass with Exc and CQ and won the tite Helsinki Junior Winner-17 (HeJW-17). In Best male he went all the way to te top placing as Best male with CAC and also the title Helsinki Winner-17 (HeW-17).
He finished BOS against the lovely championbitch who got BOB.

Day two was Nordic Winner-17, judged by Paula Heikkinen-Lehkonen and he yet again won the juniorclass with Exc, CQ and the title Nordic Junior Winner-17 (NORDJW-17.) In Best male he placed 6th with R-CAC with 4 championmales in the top.

Day three was Finnish Winner-17, judged by Francesco Cochetti, Italy and for the third day in a row he won the juniorclass with Exc, CQ and his fourth title this weekend, Finnish Junior Winner-17. He continued nicely and placed 3rd Best male with another CAC!

I want to say a big thank you to everyone around the ring who first of all, cheered and congratulated me, I appreciate your sportmanship! Also thank you to each and every person who stepped up and helped me keep an eye on my daughters while I was in the ring with Colin, especially Carina (who I travelled with), Elina and Hanna! Thank you also Nina for pictures on Friday!

Colin started his official showcareer in juniorclass at the end of July. Since then I have showed him 7 times in Sweden, 1 time in Norway and now 3 times in Finland (all in juniorclass).
Out of those 11 shows he has places as Best junior 9 times, all those 9 times with CQ, 8 of those he has been placed in Best Male, and he has 7 CAC (5 Swedish, 2 Finnish) aswell as 1 R-CAC in Finland. He has been Best of Breed twice and Best Opposite twice. He has won 5 Winner titles (NOJW-17 HEJW-17 HEW-17 NORDJW-17 FIJW-17). With only 5 swedish results counted for on "Guldhundslistan" he is currently placed as 6th Best RR male in Sweden for the year, and that with so few results!
More than that he has also tracked well in the woods and completed his Swedish Bloodtracking Championtitle.
Now we are ready for a little break from the ring but already looking forward to next year with all that it might have in store for us!