Tiya, the new addition to our pack!
2019-02-15
« Tillbaka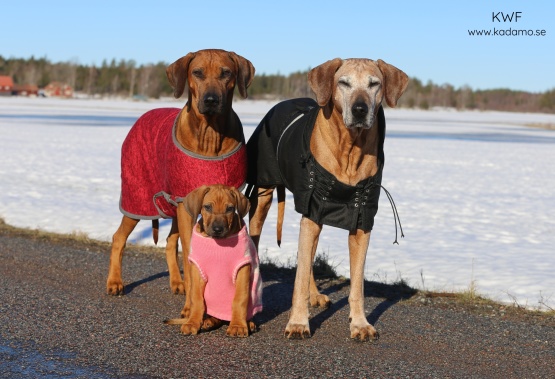 Before my Kiss-litter (Mira x Colin) was even born I knew that I wanted to keep a bitch puppy from that combination. She was destined to be with us, with all my previous dogs somehow related to her. Her name is Kadamo Comin' Home "Tiya".
For the very first I am the owner of both dame and sire of a litter, making it even more special to keep a part of the combination at home!
To fill you in on the relationships:
Tiya's great grandsire SEUCH SEVCH Hamnuddens De Stijl af Argos "Vegas" was the brother of my very first ridgeback, Dando (SEVCH RLDN RLDF LP1 Hamnuddens Dando af Argos).
Vegas was also the sire of my second ridgeback, Moa (CIB NORDUCH EECH SEVCH NVCH RLDN RLDF LP1 CV SEVW-14 DKVW-16 NORDVW-16 Hamnuddens Fischer) who is Tiya's grandmother.
Moa is the dame of Tiya's mother Mira (CIB NORDUCH EECH DKUCH SEVCH RLDN RLDF LP1 Kadamo Bringin' It Back).
My third ridgeback Yaya (CIB NORDUCH EECH SEVCH NVCH LP1 Tarujen Uyaya Kadamo) was Mira's halfsister, so she is Tiya's halfaunt.
Then we have Koya (CIB NORDUCH SEVCH RLDN Kadamo I'm in it for the Gold) who is Mira's niece and also related with Tiya.
And then we of course have Tiya's sire Colin (SEUCH NUCH FINCH SEVCH NOJW-17 FIJW-17 FIW-17 NORDJW-17 HEJW-17 Amatonga's Golden Boy to Kadamo).

It has only been two weeks since her siblings moved to their new families, so not much time with only her at home. But already she has a given place in the pack. She is just one in the pack, sleeps next to the big dogs, they play with her, she follows them around our farm, she is curious and has met all our animals and sleeps inbetween me and Christoffer in our bed at night.
I really look forward to get to know this wonderful girl even more and see her develop.
You can follow Tiya on her own page!