Kadamo in Top at the International Show in Leksand!
2016-06-20
« Tillbaka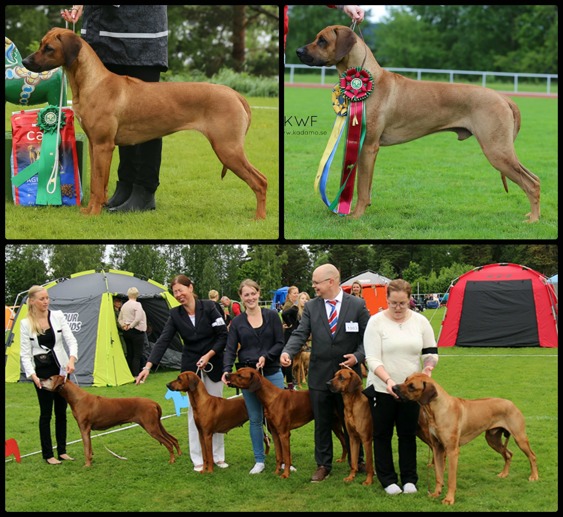 This Saturday truly was our day! Me and the girls started off early in the morning and drove to Leksand were it for the first time was held an international dogshow in beautiful surroundings.
Breedentry was 38 and judge was Leanne Duval, Australia.
I started off by showing Mira's son Kadamo Always Aiming High "Django" 9,5 months old making his debute in juniorclass. He behaved very well and gained Excellent, won the class with CQ and finished 4th Best male! Not bad for such a young boy!
In workingclass he had his uncle SEVCH RLDN RLDF Kadamo You're the Boss "Bellman" who also recieved Exc, CQ and won the class and after that finished 3rd Best Male with R-CAC.. Kadamo Nothing But Gold "Argos" also recieved Exc and was placed 2nd in the class.
In Openclass we had BISS-13 Kadamo Johnny Walker "Loke" who won the class with Exc, CQ and went all the way to 2nd Best male with CAC and R-CACIB! With that he won the last needed CAC for his Swedish Showchampiontitle! Congratulations Ewa!
In Championclass we had SEUCH FINCH DKUCH EECH SEJW-12 Kadamo Rob Roy "Dexter" who placed 2nd with Exc.
Time for the girls, and another debutant! For the very first time in the showring I got to show Mira's daughter Kadamo Give Me a High Five "Segra" and she followed in her brothers footsteps. She won the class with Exc and CQ!
After that time for halfsister SEVCH NOJW-15 Kadamo I'm In It for the Gold "Koya" in intermediateclass. Koya did her thing and won the class with Exc and CQ. Her sister Kadamo All I see is Gold "Zoie" finished 3rd with Exc.
Time for championclass were I showed SEUCH FINCH EECH SEVCH RLDN RLDF LP1 Kadamo Bringin' It Back "Mira". She finished nicely 2nd with Exc and CQ.
Time for Best Bitch were I had three dogs to show! I was happy to have Mats, owner of Segra show her and Ewa helped me to show Mira, and I showed Koya.
Koya made it all the way to Best Bitch with CAC and her first CACIB! Mira finished 3rd and Segra was unplaced.
Time for Best of Breed were my crazy little Koya took it all! She won Best of Breed and later in the afternoon won BIG-4!
Today I had a Progencygroup with CIB NORDUCH EECH SEVCH NVCH RLDN RLDF LP1 CV Hamnuddens Fischer and 4 kids from two litter, Mira, Bellman, Dexter and Loke.
Moa won Best Progencygroup with HP and Kadamo was also Best Breedersgroup with Koya, Bellman, Loke and Mira.
We did not show any of the groups in the finals.

Thank you to all Kadamodogowners for a really wonderful day! So happy to see 5 out of 9 dogs we had present placed in the Best Male/Best Bitch competion!