The Kadamo pack!
2019-03-15
« Tillbaka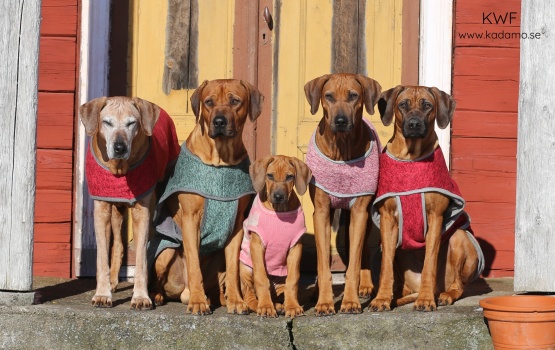 I am so proud of my gorgeous pack, and I am so happy that they are five of them at the moment. I really hope they will be five for a very long time, and that Moa will stay with us for a long long time. She is the "good one" needed to keep the rest in place!
From left:
- CIB NORDUCH EECH SEVCH NVCH RLDN RLDF LP1 CV SEVW-14 DKVW-16 NORDVW-16 Hamnuddens Fischer "
MOA
"
- SEUCH FINCH NOUCH SEVCH NOJW-17 NORDJW-17 FINJW-17 HEJW-17
HEW-17 Amatonga's Golden Boy to Kadamo "
COLIN
"
- Kadamo Comin' Home "
TIYA
"
- CIB SEUCH FINUCH NUCH DKUCH ESTCH SEVCH RLDN RLDF LP1 BPISS-13 Kadamo Bringin' it Back "
MIRA
"
- SEUCH FINCH NUCH SEVCH RLDN NJW-15 Kadamo I'm in it for the Gold "
KOYA"