Best Juniors and Best Bitch with CAC at National Show My Dog!
2023-01-09
« Tillbaka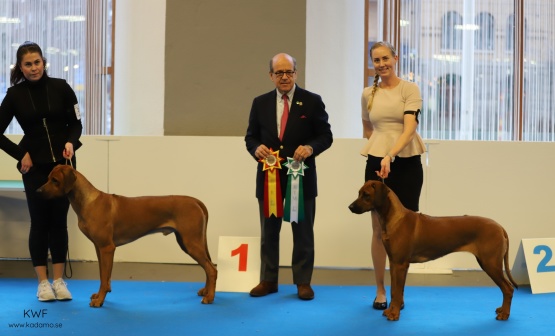 Second day at My Dog and this time national show judged by José Homem de Mello. Once again I showed SEJW-22 SEW-22 Kadamo Can Y' See It Now "Leo" in juniorclass which he won with EXC and CQ. Today he was just outside placement in Best male.
After Leo I showed his sister SEJW-22 SEW-22 Kadamo Force of Nature "Penny" in juniorclass and she won it with EXC and CQ. Today it was her time to shine and she went all the way to Best Bitch with her 2nd CAC!
Their mum Tiya again got excellent but no placement today.
In Best of Breed Penny was beaten by the handsome finnish male and she ended up BOS. Then the siblings competed against eachother for Best of Breed Junior and this time Penny won.
We had a long drive back home so this time we did not wait for the finals.

Thank you everyone for congratulations both at the show but on facebook and Instagram. I am a very proud breeder of these wonderful dogs. I always try to have a vision ahead when making combination hoping the gradually improve exteriour, and I am happy to have succeed with these two! From three shows in juniorclass they have both been classwinners with EXC and CQ every time, competing against eachother for Best of breed junior. Penny has been placed 2x Best Bitch and 1x Best bitch 4 and now already has 2x CAC and 1x Nordic CAC.
Leo has been placed 1x Best of Breed and 1x 2nd Best Male and has 1x CAC, 1x Nordic CAC, 1x R-CAC and 1x BIG-2!
Not bad being just 10,5 months old! I think we will have a fun year with these two, and hopefully be joined by some of their siblings in the showring later this year.

Congratulations again Malin and Malin and thank you for your great company this weekend!