Koya 3rd Best Bitch with R-CAC at the last show of the year!
2016-12-04
« Tillbaka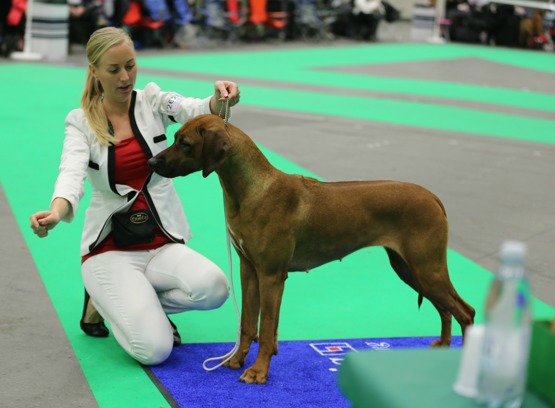 Yesterday it was time for the last Swedish Show of the year, it's was the Swedish Winner-16 show in Stockholm, judge Liz Cartledge, GB and breedentry was 60+.
First out was our two juniorboys SEVCH Kadamo Always Aiming High "Django" who placed 2nd in the class with Exc, just one dog away from the Juniorwinnertitle... His brorther NBOJW-16 Kadamo I Am High Quality was one of five in the class who got VG today.
I had no other males at the show so no competition for us in Best male. Time fore the girls and as always I showed SEVCH RLDN NOJW-15 Kadamo I'm In it for the Gold "Koya" in intermediateclass, her very last time!
She won the class with CQ and got to compete in Best Bitch where she ended up nicely as 3rd Best bitch with R-CAC.

Koya's critique:
"Nearly 2 years. Typy bitch in good form. Attractive head, very focused, intelligent expression. Clean outline, good reach of neck, deep chest. Moved and showed well, handled to best advantage."

In Championclass I got to show SEUCH FIUCH SEVCH Kadamo Thinking of Tilley "Tilly". She did well and got Exc but no placement in this large class.
I am very happy and proud of my dogs, even though only Koya made it to placement this day.
Thank you all for a great day around the ring and for cheering for us!
Thanks to Nadine and Petra for helping out taking pictures these two days! Look forward to spend time around the ring with all of you again next year!