Leo New European Junior Winner 2023 aswell as BOB, JBIG-3, BIG-4, JCAC, JCACIB and CAC in Herning!
2023-05-20
« Tillbaka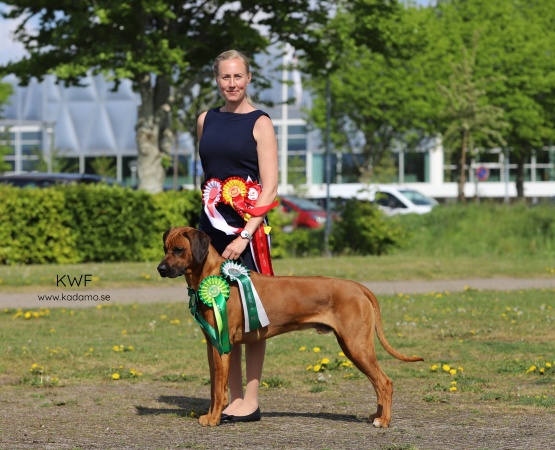 I don't even know where to begin! I still have not really understood what happend! A little while back I realized it was the very last day to enter to the European Winner Show in Herning, Denmark. I had not planned to go since I had my litter of 15 puppies at home. But knowing there was a junior winner title to compete for, and knowing I have some very nice looking junors in my Oasis-litter (Tiya x Maddox) I just had to reach out to their owners and see if they, very last minute wanted to go. And happy to have people as crazy as me, both the owner of SEJW-22 SEW-22 Kadamo Can Y' See It Now "Leo" and Kadamo Keep the Dream Alive "Nada" said yes!
So with minutes to spare they were entered to the show!
Since Nada's onwer could not go hemselves me and Leos owner Malin went with the dogs and I showed them.
So on the day before the show we took the long drive (12,5 hours from door to door) to Herning and headed for the show in Thursday morning.
The show was judged by breedspecialist mr Christian Jouanchicot, FR and the breed entry was 134.
Leo was great and showed so well. He won the large juniorclass of 14 very high quality young males. With this he was rewarded JCAC, JCACIB and the title EUJW-23 European Junior Winner 2023!!
So amazing and we were so happy! No expecations going in to best male, since it was a total of 53 males that had been competing this day, and 23 of them championmales from around Europe. But this little guy took it all! He won Best Male! Since he is too young for CACIB that aswell as the EUW-23 title went to the second best male.
In bitchclasses I showed his sister Nada in juniorclass. She was relaxed and happy before entering the ring but after a while in there she said no thank you. So she did not show herself to her best potential but still managed to get Excellent and place 4th out of 16 juniors!
This was her second ever show so with more practise she will hopefully soon enjoy herself more in the ring!
Leo now had two best of breed competitions coming up, first againt the best juniorbitch Ridge's Star Yanira Joy. He won against this beautiful girl and was Junior Best of Breed!
And after this he got to compete against the Best bitch EUW-23 WW-21 C.I.B. Ridge's Star Ceazaria. Such a beautiful girl well deserving of her best bitch placement! But our Leo did it again, we went Best of Breed!
I feel so humbled by this young boys showcareer so far! I know I think he is handsome but I love that so many other people and respected does too!
We had a few hours before the finals so the dogs got to rest, it was a very long day and despite this he really tried his best up to the end for me.
In the Junior groupfinals he was judged by Barbara Müller and she liked him so much so he went to be placed 3rd Best in Juniorgroup!
After this we ran to our next groupfinal which was judged by our breed judge Mr Christian Jouanchicot. It was a large croup of fantastic best of breed winners and I feel so happy that our judged placed us as BIG-4 among them all!

After this very long day it was time for us to start our very long drive home. We took off and after about 1,5 hours we realised we were driving the wrong way! So a quick change of plans, instead of turning back and drive another 12 hours we continued as our gps wanted and took the ferry from Fredrikshavn to Gothenburg instead. This was probalby a better way, because we got a few hours of rest from driving and could rest a nap a little. A long night but together with fantastic Malin, Loe's owner it all went smootly and was enjoyable!

Thank your first of all to Malin, for entering Leo to the shows I just ask, and for coming along, for letting me show him, for being so kind and nice and just great in all ways!
And thank you Katarina for letting me bring Nada along on this long trip! And thank you to the judges for seeing the quality of these two dogs!
And thank you everyon e around the rings for congratulations and cheering, so nice to meet manyof you in person for the first time!
An thank you all for congratulations through facebook and messages!
I will try to understand how big of an avhievement this is!