Koya JuniorWinner-15 and 3rd Best Bitch at the Norwegian Winner Show!
2015-10-19
« Tillbaka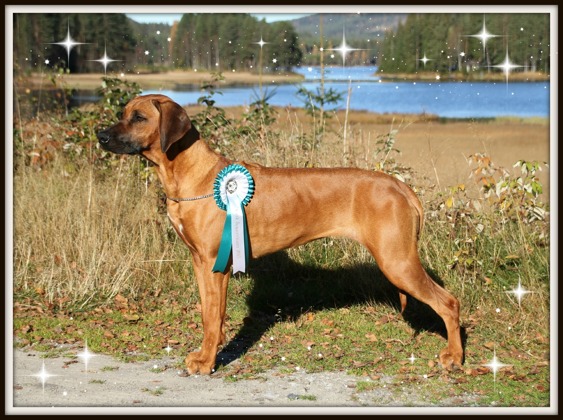 On Saturday afternoon me and Koya drove to Eskilstuna and picked up SEUCH FIUCH EECH SEJW-12 Kadamo Rob Roy "Dexter" and Kadamo Nothing But Gold "Argos" and their owners Tomas and Johnny and continued our journey towards Hamar in Norway.
It was time for this years Norwegian Winner Show judged by Bengt-Åke Bogren, SWE.
We arrived at our hotel around 9 pm and got settled in our rooms and not long after that went to bed and prepared for the early morning the next day.

For me it was the first time ever showing for this judge but I thought Koya could have a chance when checking what he has liked before.
But, Koya and Argos, being only 9 months and 3 days old and the youngest once in juniorclass I didn't have the highest expectations.
I started off showing Argos who for the first time ever shown by me acctually stood pretty still! He behaved well and recieved Excellent and finished as 3rd Best Juniormale.
After him I showed Dexter in a very large championclass. Unfortunately he was one (of many) today to recieve VG.
After the boys it was time for me to show Koya, just as her brother Argos making her official showdebute this day.
She did have a bit of hard time standing properly because of the slippery floors, but still behaved well and also recieved Excellent.
And not just that, this little thing went all the way to Best Juniorbitch with CQ and therefor became Norwegian Juniorwinner-15!
In Championclass we had SEUCH FINCH SEVCH Kadamo Thinking of Tilley "Tilly" who recieved VG today, as did several other champions this day.
In Best Bitch class Koya was up against some very nice ladies and being so young I didn't think we had even a shot of making a placement, so was surprised and very happy when we were left in the top 4!
Koya finished very nicely as 3rd Best Bitch with Norwegian R-CAC and the winnertitle!

I am so happy for Koya to have had this start in the ring! Great experience, many wonderful people around the ring and great travelcompany!
Not to forget I just have to thank my wonderful husband who were at home taking care of our daughter, the other three big dogs and our 8 puppies!
Thank you for taking on all the work letting me go! Love you!

Below are photos mostly taken by sweet Jonny (owner of Dexter and Argos) from our wonderful day! Enjoy!