Wonderful results at Swedish Ridgeback Specialty Show 2015!
2015-07-11
« Tillbaka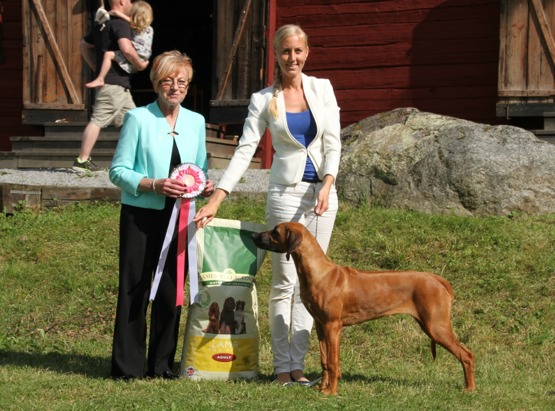 Today it was time for the yearly large Ridgeback Specialty Show. This year it was held in Almare Stäket just 10 minutes drive from my house.
Judge: Gill Lawless, UK, breedentry 120.

First out was our "petboy" Kadamo Jack Daniels "Zimba" in petclass were he did great with his handler Amanda, finishing nicely 2nd Best Male.
After him it was time for 4 of my Gold-litter puppies to make their showdebut in puppyclass 4-6 months. I got to show Kadamo Aiming for Gold "Walter" who placed 2nd with HP. His brothers Kadamo Nothing But Gold "Argos" finished 4th with HP and Kadamo Gold Rush "Tor" finished 5th with HP.
After the boys it was my turn to enter the ring with my sweet girl Kadamo I'm in it for the Gold "Koya". She won her class with HP and got to compete for Best Bitch puppy against the classwinner 6-9 months. Little Koya won and competed after that against the Best Male puppy and won again making her Best of Breed Puppy/ Best in Show puppy!
So proud of her for doing such a good job at her first show, and the result just a big bonus!

After the puppies the official classes begin and in Intermediateclass I had two boys entered. I showed Kadamo Playing with Fire "Zeppelin" and he recived EXC, won the class and got CQ.
His brother Kadamo Fire it Up "Arrax" finished 3rd in the class with VG.
In Workingclass their brother SEVCH RLDN Kadamo Fire and Ice "Nixon" showed off and won the class with EXC and CQ. I showed SEVCH RLDN RLDF Kadamo You're the Boss "Bellman" who finished very nicely 2nd with EXC and CQ.
In Openclass I had three boys present. Won the whole class did SEJW-12 Kadamo Rob Roy "Dexter"with EXC and CQ. His halfbrother SEVCH Kadamo Devil in Disguise "Isidor" finished nicely on 4th place in the class with EXC and BISS-13 Kadamo Johnny Walker "Loke" also recieved EXC.
So excited for Best Male competition, with four dogs present and three of them classwinners today!
Placed in Best Male was Kadamo Playing with Fire "Zeppelin" as 7th and SEJW-12 Kadamo Rob Roy "Dexter" as 5th Best Male.

I want to say a HUGE congratulations to my lovely puppybyers for todays great result! It is thanks to you that your dogs are so welltrained and wellbehaved in the ring, and you all deserve the success!

Also I want to thank each and everyone of you who helped me to take care of my daughter Ellen the whole day! My day would have been a disaster without your help today! So thank you!!!

Tomorrow we are heading north for a few days of hiking with friends and dogs, so will not show my other girls at BISS tomorrow. But I wish everyone else good luck!