CIB SEUCH NUCH FINCH NORDUCH EECH SEVCH NVCH LP1 RLDN RLDF
SEW-10 NORDW-10
Tarujen Uyaya Kadamo "Yaya"

Yaya is the "dream come true". I got this girl and she achieved more than I could have ever hoped and dreamed for. She started her winning ways at a young age and easily gained her Championtitles.
She was just as successful in bloodtracking, obedience and rallyobedience as she was in the showring.

Yaya is a dog different from all others. She is a true mum's girl and she is the happiest when she is as close to me as possible.
This girl would walk trough fire to be with me, you can always find her by my side.
She is a sweet and friendly girl who is now growing out of her wild young ways and becoming a calm and good adult!

Yaya has had one litter here at kennel Kadamo, the Canada-litter born in 2011. She unfortunately won't be having any more puppies because of healthissues in her first litter.
You left us too soon, but in our hearts you will have a place forever.

2008/05/09 - 2016/09/05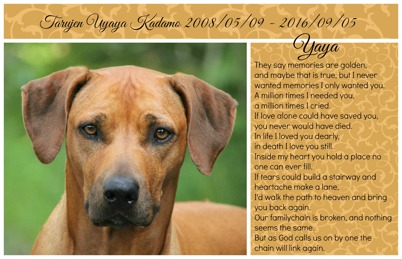 D.O.B: 2008-05-09
Sex: Bitch
Sire: BIS BISS RUBIS Aust CH Lionsbane Hes the Boss "Kimba"
Dame: Fin CH Tarujen Osei "Dana"
Hips: A/B (clear)
Elbows: 0/0 (clear)
Weight: 37 kg
Height: 64 cm
Dental status: Fullset correct bite
Mentalitytested: Gunshotproof 3

Bloodtracking:
Swedish Bloodtracking Champion
Norwegian Bloodtracking Champion
4th Best Blood/Fieldtracking RR in Sweden 2010
5th Best Blood/Fieldtracking RR in Sweden 2009

Obedience:
LP1 Obedience Diploma 1
RLDN Rallyobedience Novice Diploma
RLDF Rallyobedience Graduate Diploma
5th Best Obedience RR in Sweden 2010

Shows:
CIB- International Champion
Swedish Champion
Finnish Champion
Norwegian Champion
Nordic Champion
Estonian Champion
Swedish Winner -10
Nordic Winner -10
5th Most Top Winning RR-Bitch in Sweden 2011 (limited showing)
3rd Most Top Winning RR-Bitch in Sweden 2010
3rd Most Top Winning RR-Bitch in Sweden 2009
8 x CACIB
1x BIG-1
2 x BIG-3
3 x BIG-4
BISS at Ridgeback Speciality Show Askersund 2009
RUBISS at Ridgeback Speciality Show in Askersund 2010
BISS at Ridgeback Speciality at Årsta Slott 2011
RUBISS at Swedish Ridgeback Speciality Show 2011
BISS at Ridgeback Specility Show at Årsta Slott 2012
2x BOB, 2x BIG-1 and 2x BIS-placement , 1x BOS as puppy
Owner: Karin Fürst