Penny New Norwegian Winner-23 and Norwegian Junior Winner-23 with CAC and J-CACIB in Sandefjord!
2023-07-07
« Tillbaka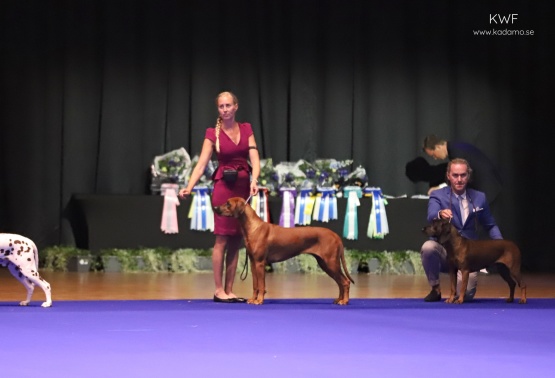 Today was day 1 at three day show in Sandefjord, Norway. Judge was mr Wim Wellens, NL breed entry 63. First I showed EUJW-23 SEJW-22 SEW-22 Kadamo Can Y' See It Now "Leo" in juniorclass where he got EXC and placed 3rd. After his I showed his sister SEJW-22 SEW-22 Kadamo Force of Nature "Penny" and she also got EXC but won the class with CQ.
After that it was time for their mum SEVCH Kadamo Comin' home "Tiya" in openclass were she got EXC and placed 4th in the class.
In Best Bitch Penny went all the way and finished as number 1! She got her first Norwegian CAC and also J-CACIB. She also won two new titles, Norwegian Juniorwinner-23 and Norwegian Winner-23! (Leo and Penny is from my Oasis-litter from Tiya and Maddox.)
We took a break before the finals for some swimming, food and rest which both dogs and humans needed. It was a long wait for the finals and the judge Knut-Sigurd Wilberg hardly looked our way, but Penny behaved beautifully even though we did not get any placement.