Best Juniors and topplacements day 1 at International Show My Dog!
2023-01-08
« Tillbaka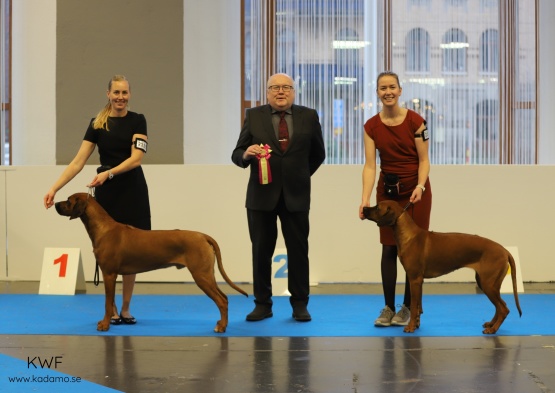 On Saturday we attended International Dogshow My Dog, breed entry 77 judge Arne Foss, Norway.
I started off by showing SEJW-22 SEW-22 Kadamo Can Y' See It Now "Leo" in juniorclass which he won with EXC, CQ and Crufts qualification. He went all the way to 2nd Best Male with R-CAC.
I showed by boy SEUCH FINCH NOUCH SEVCH NOJW-17 NORDJW-17 FINJW-17 HEJW-17
HEW-17 Amatonga's Golden Boy to Kadamo "Colin" in Championclass, he got EXC and great critique but outside placement.
After the boys it was the girls turn and I showed SEJW-22 SEW-22 Kadamo Force of Nature "Penny" in juniorclass and she won it with EXC, CQ and Crufts qualification. She was also placed as 4th Best Bitch!
In Openclass I showed their mother SEVCH Kadamo Comin' Home "Tiya" and she placed 2nd with EXC and CQ.
The siblings got to compete against eachother for Best of Breed Junior and today Leo won, but no placement in BIS junior finals.
Congratulations to the owners of Leo and Penny, and thank you for letting me show them!

Some photos from our day and the dogs critiques below!