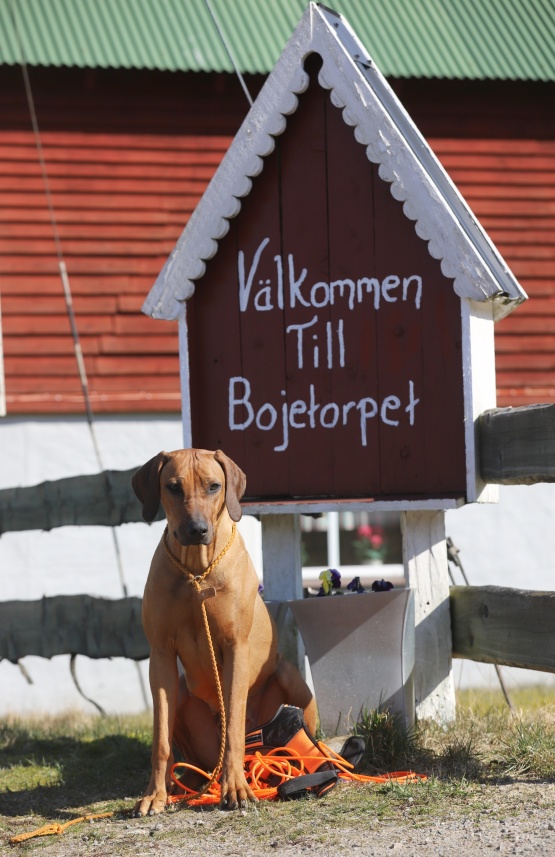 Yesterday I took Tiya and Moa for a roadtrip. We went to the westcoast and took the opportunity to start in openclass bloodtrack with Tiya, who only needed one more 1 st prize to complete her championtitle. She did so well! She tracked in about 18 minutes in a good steady pace the whole way with pretty no faults on the way. She got her first prize and the judge said she was close to a Honours Prize aswell! So let me introduce you to SEVCH Kadamo Comin' Home!
Moa also got to chew a bit on her hoof but also used her nose and found a wildboar skin near where I parked my car. Her hearing might be very bad now but her nose is still working just fine!
Of course both girls got to celebrate with icecream!
Läs hela inlägget »
My homepage is being updated to a "better" version, but has so far not worked out well for me... I do hope that I will soon have it all figured out in the new version so I can keep on posting news and photos for you.
You can see updates on my facebook until then, but hopefully more here soon!
Läs hela inlägget »
Vi söker ett nytt hem åt en av våra hanhundar (20 månader respektive 5 år). Vi har i dagsläget två okastrerade hanar i huset och önskar att en av dom ska få flytta till ett eget hem för att undvika framtida konflikter. De kan bo med tik, men skulle inte rekommendera med okastrerad tik då det blir väldigt besvärligt kring löp.
Önskar ev fodervärd/delägare och inte sälja så låter det intressant så kontakta mig gärna så berättar jag mer om dom.
Mail till karin@kadamo.se.
Oktober Valpkurs N-kullen
10 Oktober Viltspårsträff M-kullen
November Rallylydnadskurs