Det är med tungt hjärta som jag nu söker efter en fodervärd åt min fantastiska Colin. Jag har fått inse och acceptera att han skulle må bättre om han fick bo själv utan en hög med tjejer att behöva ta hand om och hålla koll på.
Colin är underbar med människor, älskar i stort sett allt och alla! Han möter dom han gillar med stora kramar och en mycket glad men hård piskande svans! Han vet hur man kopplar av och ligger gärna på rygg och tar upp ordentligt med plats i soffan!
Han har däremot det jobbigt med hundar och hundmöten. Han är helt ok på egen hand men tillsammans med flocken tar han på sig alldeles för mycket ansvar och blir vaktig och beter sig illa. Han har några hanar (och tikar) han kan umgås med så inga problem med hundar han får lära känna.
Vi har börjat träna lydnad och rallylydnad. När han kan sluta hålla koll på hundarna runt omkring sig och alla goa dofter/fläckar på marken så är han riktigt duktig. Börjar få en ganska bra fotposition och bakdelskontroll, även om vi har en bit kvar innan han är redo för tävlingsbanorna.
Han spårade en del som unghund och blev svensk viltspårschampion. Vi har sedan inte hunnit med så mycket spårande, tror han skulle uppskatta att få göra det mer igen!
På utställning trivs han rätt bra, han är en snygging som gillar att visa upp sig. Han är champion i Sverige, Norge och Finland och har även vunnit flera vinnartitlar som Junior.
Vem söker jag då?
Jag söker dig/er som gärna bor inom 1-2 h från Enköping, då jag vill få träffa honom regelbundet, passa honom om ni ska bort osv. Du bör ha god hunderfarenhet och både tid och viljan att vara aktiv med honom, på vilket sätt får du själv föreslå!
Du har troligtvis ingen annan hund för tillfället så Colin kan få all din tid, uppmärksamhet och kärlek. Jag vill inte sälja honom utan söker en fodervärd som ger mig fortsatt rätt att ställa ut honom och använda honom i avel.
Är du intresserad? Ta i första hand kontakt med mig via mail till karin@kadamo.se.
SEUCH FINCH NOUCH SEVCH NOJW-17 NORDJW-17 FINJW-17 HEJW-17
HEW-17
Amatonga's Golden Boy to Kadamo "Colin"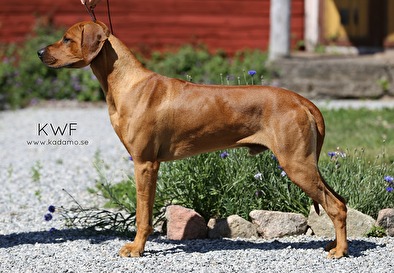 Early in the summer of 2016 I saw the planned mating at Kennel Amatonga in Norway. One of my favorite bitches, CH Amatonga's Duniwa Dana was going to have her first litter. And the male chosen for her was one of my favorite males, that I had even had ideas of using myself in my breeding, CH Leopold Amnon Berezin Rich-Rach from Israel.
So this combination was unresistable to me and I contacted the breeder. At the end of August the puppies were born, 9 puppies (3 girls and 6 boys, 1 girl and 1 boy stillborn).
I followed the litter from the start and was able to visit them twice before it was time to make my decision on which one was going to move in with us. And my heart always went for Mr Black, and here he is, Colin!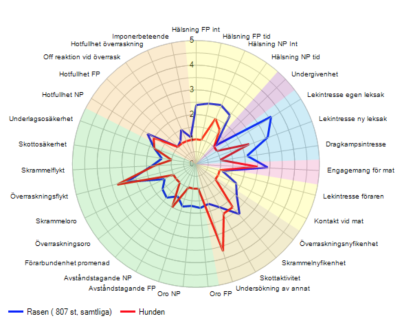 D.O.B: 2016-08-31
Sex: Male
Sire: INT CH ISR GRAND CH ISR CH ISR JR CH Leopold Amnon Berezin Rich-Rach "Leo"
Dame: C.I.B NORD UCH Amatonga's Duniwa Dana "Dana"
Hips: A/A
Elbows: 0/0
Weight: 43 kg
Height: 67 cm
Dental status: Correct bite, fullset of teeth
Health:
EOAD:
JME: N/N non carrier
DM: N/DM carrier (exon 2)
EOAD: clear through parentage
Hemophilia B (factor IX): X (N)/Y (clear, not a carrier)
Bloodtracking: Swedish Bloodtracking Champion
Shows:
Swedish Show Champion
Norwegian Show Champion
Finnish Show Champion
Norwegian Junior Winner-17
Nordic Junior Winner-17
Finnish Junior Winner-17
Helsinki Winner-17
Helsinki Junior Winner-17
6x CAC (Swedish)
2 x CAC (Finland)
1x CAC (Norway)
1x CACIB (Norway)
1x Nordic CAC (Sweden)
1x BIG-4
Best of Breed and BIG-1 puppy

Breeder: Renate Hasle, kennel Amatonga's
Owner: Karin Wolgast Fürst

Frozen semen available. Contact me with inquiries at karin@kadamo.se.