Maddox Best Male and Finnish Champion first day at Sawo Shows!
2022-08-05
« Tillbaka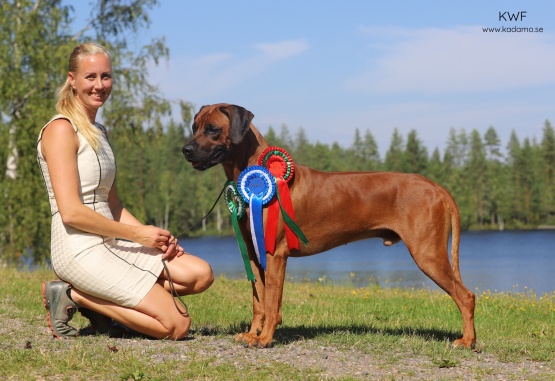 On Wednesday afternoon me and my two twindaughters took the ferry to Helsinki in Finland to attend three shows in Kuopio. Yesterday was spend travelling as well as seeing a couple of Colin's one year old puppies from kennel Werdanas. (Photos of them will come later!)
Today was National Dog Show day 1 in Sawo Shows, judge Paavo Mattila, Finland.
I showed Maddox in openclass which he won with EXC and CQ. He went to compete in Best male were he won! He won his finnish CAC making him New Finnish Champion! He finished BOS against the Best Bitch.

Maddox critique:
Excellent male. Nice shape of head. Excellent neck, body and bone. Very good topline. Enough angulations front and rear. Good quality of coat and beautiful color. Good ridge. Beautiful outline when standing. Good flexible movement. Excellent performance.

I showed Tiya in Openclass aswell and she finished 2nd with CQ. Unfortunately no placement for us in Best bitch.
Tiya's critique:
Beautiful bitch with very good movement. Good proportions. Nice shape of head and expression. Excellent neck, body, topline and rear. Nice ridge. Pleasing performance.

Very happy with our first day at the show! Getting Maddox championtitle which we hoped for!
In the afternoon the dogs got to go swimming aswell as couple of walks in the woods. The weather has been warm today so they have been resting a lot aswell at our cabin.
Tomorrow it is time for the second show!