Nice day at SRRS Östra's Ridgeback Speciality Show!
2018-05-26
« Tillbaka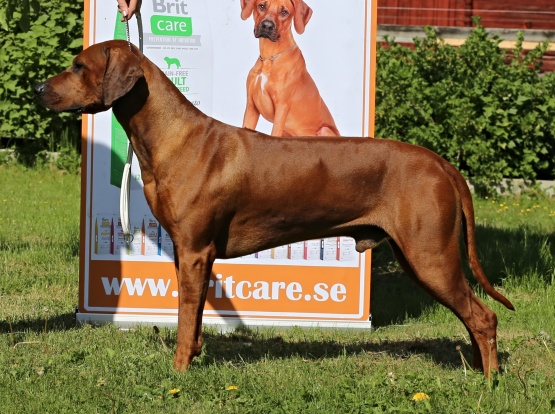 Today it was time for our first outdoorshow for the year, the SRRS Östra Ridgeback Speciality Show judged by Orit Nevo, Israel. I did not have that many dogs with me, but the dogs present did well. First out for the very first time at a show was Kadamo Let It Be "Saffran" (Mira x Boy) in Petclass (he is singlecrown) and he became Best male and Best Opposite sex. Congratulations Ellen!
In Workingclass I got to show SEVCH Kadamo Always Aiming High "Django" (Mira x Idde) and he won the class with EXC and CQ.
In Openclass Kadamo Nothing But Gold "Argos" (Kayla x Idde) recieved EXC and placed 3rd in the class. In Championclass we had NORDUCH EECH SEJW-12 Kadamo Rob Roy "Dexter" (Moa x Argos) who recieved EXC but was unplaced. Making her comeback in the ring was my golden oldie CIB NORDUCH EECH SEVCH NVCH RLDN RLDF LP1 Hamnuddens Fischer CV "Moa" in Veteranclass where she finished nicely 2nd with EXC and CQ, being the oldest in the class with her almost 12 years of age.
Thank you all for a very nice day arond the ring and thank you for assistance with my kids when I was in the ring!