A succesful day at Int. Show in Köping!
2017-07-22
« Tillbaka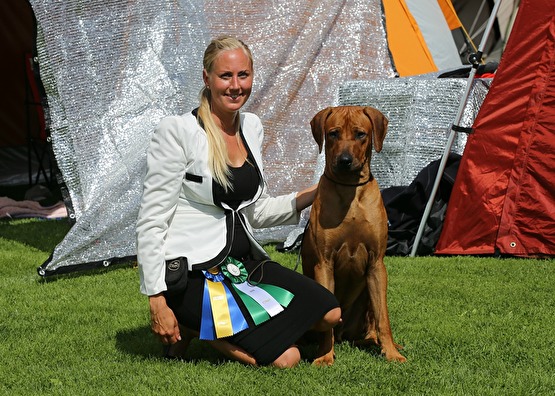 Today it was time for the first show this summer for me. After being very pregnant with my twin daughters this spring and then giving birth to them June 1st we have had a little break from the ring. Now, with Colin being almost 11 months old and a junior it was time to show him off for real.
The day started with five of my puppies from the It-litter (Mira x Boy) showing in puppyclass. Best Male was Kadamo It Is My Time "Kaiser" with HP, 2nd was Kadamo This is It "Nelson" also with HP, 3rd was Kadamo Rumour Has It "Kili" and 4th was Kadamo Just Do It "Bruno". I showed their sister Kadamo Can You Handle It "Fröya" and she was Best Bitch with HP and also Best of Breed against brother Kaiser who was BOS.
Then it was time for Colin to make his official showdebute. He won the Juniorclass with CQ and went all the way to Best Male winning his first CAC! Unfortunately to young to win the CACIB, but that went to handsome SEUCH NUCH DKUCH DKW-16 NORDW-16 BISS-13 Kadamo Johnny Walker "Loke" who won the Championclass and placed as 2nd Best Male!
In intermediateclass we had NOJW-16 Kadamo I Am High Quality "Clinton" got Excellent and placed 3rd. In Workingclass Kadamo Nothing But Gold "Argos" got Excellent and placed 1st.
In Championclass as I said earlier Loke won and his brother SEUCH FINCH DKUCH SEJW-12 Kadamo Rob Roy "Dexter" recieved Excellent too.
In bitchclasses I showed Kadamo Give Me a High Five "Segra" in intermediateclass, this was her second show ever and she got Excellent and placed 3rd.
Then it was time for Koya to make her debute in Championclass amongst strong competition. She got Excellent and placed 3rd with CQ and also finished 3rd Best Bitch!
In Veteranclass SEUCH SEVCH Kadamo Lady in Red "Chanel" got Excellent and placed 2nd.

Thank you everyone for a great day around the ring! Thank you especially to Sara and Petra for help with the twins, and to Annie and Jonny for keeping Ellen company and to Mats for running around with my camera!