Great day for Kadamo at International Dogshow in Strängnäs!
2017-03-12
« Tillbaka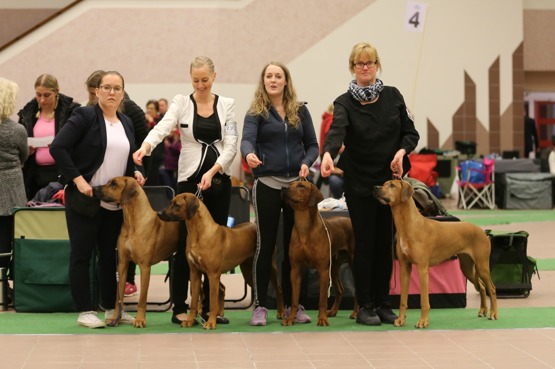 Today it was time for the first show of the year for us at Kadamo. Judge was Mr Åke Cronander, Sweden and breedentry was 40.
I started off showing Colin (Amatonga's Golden Boy to Kadamo) in puppyclass, and he finished nicely Best of Breed puppy.
In intermediateclass I showed Mira's son Django (SEVCH Kadamo Always Aiming High) and he won the class with Exc and CQ.
In workingclass Argos (Kadamo Nothing But Gold) placed 2nd with Exc. In Openclass Arrax (Kadamo Fire it Up) only recived Good.
In Championclass we had brothers Loke (SEUCH NUCH DKUCH NORDW-16 DKW-16 Kadamo Johnny Walker) and Dexter (SEUCH FINCH DKUCH EECH SEJW-12 Kadamo Rob Roy) both recieving Exc placing 2nd and 3rd in the class with CQ.
In Best male only Django was picked out for placement and finished nicely 4th Best Male, his first time in intermediateclass.

Time for the girls and I had Koya making her debut in Openclass, and her very first show since she turned 2 years old. Of course I was really hoping for the CAC to make her Swedish, Norwegian, Finish and Nordic Champion, but today we fell on the finishline.
Koya did win the openclass with CQ but placed 3rd Best Bitch with R-CAC. I got to show Yaya's daughter Tilly (SEUCH FINCH SEVCH Kadamo Thinking of Tilley) in Championclass which she won with CQ and she later ended up just before Koya, as 2nd Best Bitch with R-CACIB.
I entered our Breedersgroup with Loke, Koya, Django and Tilly and we were rewarded 1st place with HP.
(I did not stay for the finals with Colin or the group.)
Happy with a lovely day around the ring with my extended family, all the dogs and nice results! See you all in Västerås!